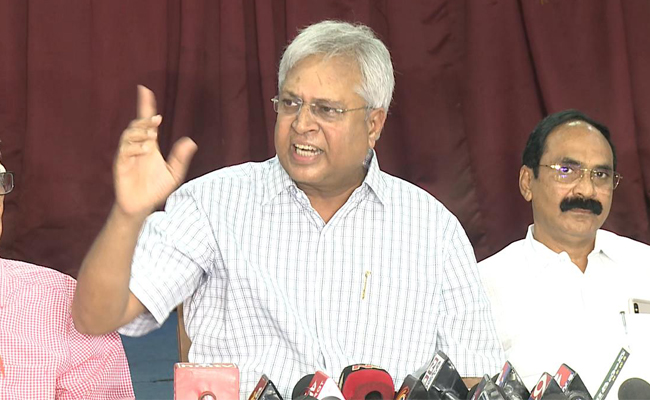 Even as the letter written by Andhra Pradesh chief minister Y S Jagan Mohan Reddy to Chief Justice of India S A Bobde complaining against Supreme Court judge N V Ramana and a few other high court judges created a sensation, former Congress MP from Rajahmundry Vundavalli Arun Kumar also wrote to the CJI.
In his letter mailed to the CJI, Vundavalli, a self-styled intellectual, demanded that the cases being heard against Jagan Mohan Reddy in the special CBI court in Hyderabad virtually, should be telecast live, so that people would know the real facts.
Similarly, the ACB case against former chief minister and Telugu Desam Party president N Chandrababu Naidu also should be telecast live.
"In fact, all the criminal cases being tried in various courts of law should be telecast live so that people will know who is right and who is wrong," he said.
Vundavalli pointed out that even in foreign countries, there was a practice of conducting live-telecast of court proceedings.
"We, too, should have virtual courts and everybody should be allowed to witness the trial. I conveyed my suggestions to the CJI through e-mail," he said.
Stating that there was nothing in new in the chief minister writing letter to the CJI against some judges, the former MP said Jagan had the habit of going stubbornly on any issue.
"I don't believe his allegations against Justice N V Ramana. How can anybody prove the insider trading in Amaravati? What is wrong in judge's daughters purchasing lands, when the chief minister's son can do business?" he asked.
He, however, said there were lacunae in judiciary and they should be rectified by the political systems.
"Judges are not above the law. But there should be a health debate on the allegations against judiciary. If there is a tussle between judiciary and the government, it is not good for democracy," Vundavalli opined.
The latest info on OTT/Streaming content, Home Delivered!