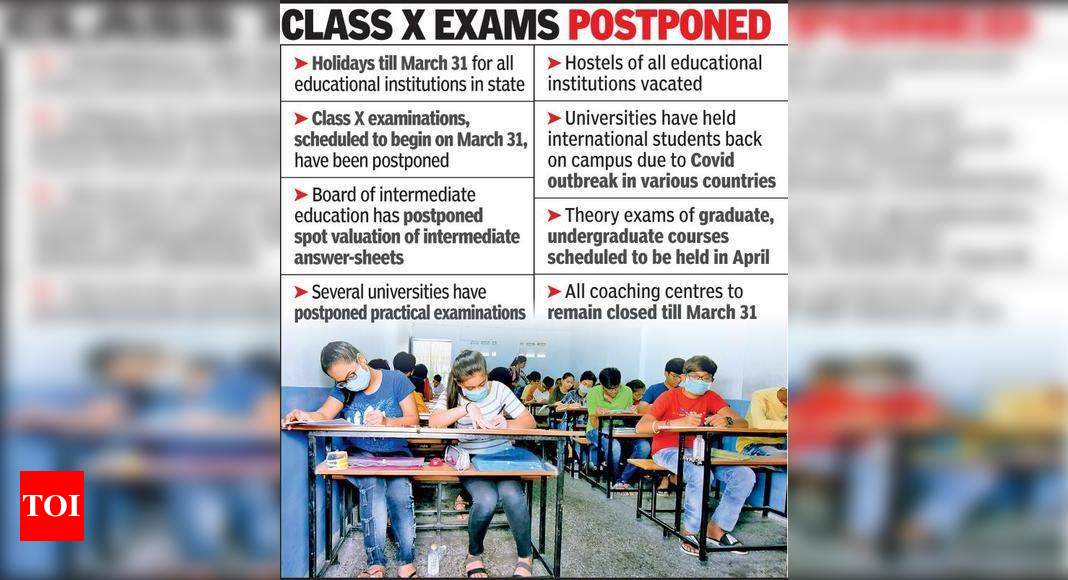 Vijayawada: The Covid-19 pandemic has brought the
education
sector in the state to a grinding halt. The impact of the epidemic has forced the state government to shut all educational institutions till March 31.
Even coaching centres have shut operations. Nearly one crore students are limited to their homes for almost a week now, and there's every possibility of the lockdown being extended. Several busy academic centres in the state, including Vijayawada, Visakhapatnam, Tirupati, Rajahmundry, Kakinada, Guntur and Anantapur have been witnessing muted activity due to the closure of colleges, schools, universities and hostels.
Other than international students, most universities have vacated students from hostels. Some varsities have also postponed practical examinations. Meanwhile, thousands of teachers and faculty members have also been voluntarily observing self isolation due to the 'lockdown holidays'.
Prof M Jagannadha Rao, vice-chancellor of Adikavi Nannaya University, has asked students to limit themselves to their homes and refrain from going to crowded places during the lockdown period. "We have already postponed the exams. We have conducted various awareness programmes for students on the prevention of the pandemic," he told TOI.
Andhra University registrar Prof V Krishnamohan, dean (international affairs) Prof Dhanamjaya Rao and Dr Paul Douglas (chief warden of AU international hostels) have been visiting the hostels housing international students and reviewing measures being taken there in view of the prevalence of the pandemic.
Prof Dhanamjaya Rao said they interacted with international students residing in the hostels. "All students expressed satisfaction regarding the sanitary and hygienic conditions there. We have requested them to follow the self-imposed curfew for a few more days," said professor Rao.
M Ravikrishna Kumar, a maths lecturer at a corporate college in the city, said his college has asked faculty members too to remain at their homes. "Students attended college even during cyclones and heavy rains. But for the first time, all faculty members have got holidays for an extended period due to Covid-19," he said.
Subscribe

Start Your Daily Mornings with Times of India Newspaper! Order Now