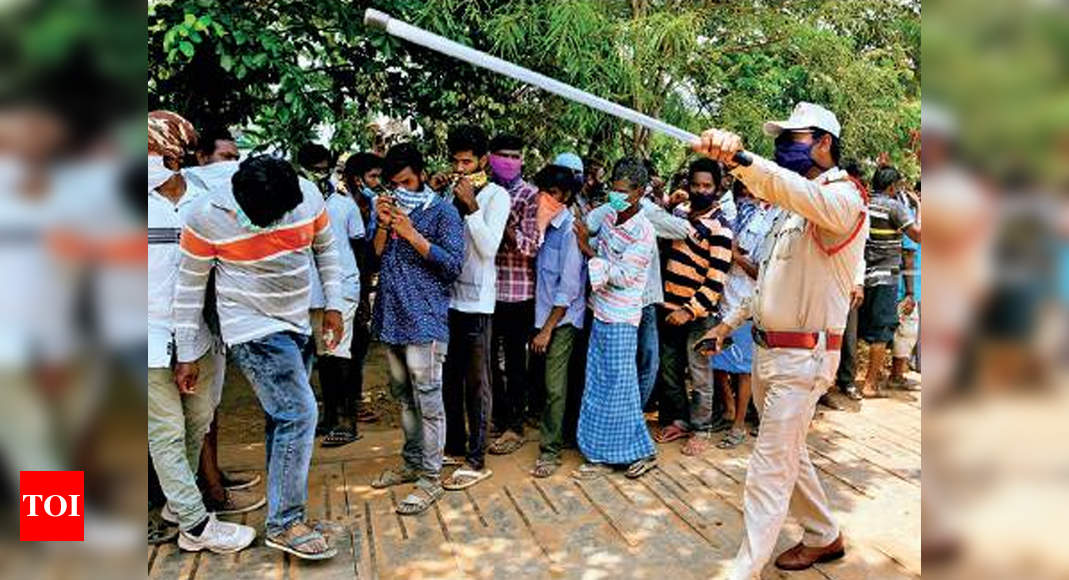 VIJAYAWADA: It was chaos on D-Day for liquor sales as it resumed in Andhra Pradesh on Monday after 43 days. Tipplers flocked to liquor shops, ignoring social distancing norms putting cops in jeopardy as they chased and chastised the crowd gathered in front of outlets from early morning even though the opening was scheduled at 11 am. By evening, a murder related to a drunken brawl was also reported from Nellore.
While the queues were long, excise officials were not enthused by the sales, pegging it around Rs 50 crore on Monday. In Vizag district liquor worth over Rs 7 crore was sold, while in other districts sales ranged between Rs 4 to Rs 5 crore. A senior excise officials department said that of the 3,500 liquor outlets in AP, over 700 were in containment zones and malls, while around 2,800 were opened on Monday.
Vizag, Rajahmundry, Tirupati, Tenali, Anantapur and other towns witnessed chaotic scenes. The decision of the state government to increase the price of liquor and beer by 25% appeared to have in no way deterred the crowd.
In containment zones, liquor outlets remained closed but people flocked to nearby rural areas with hopes high.
In
Chittoor district
, people from Tamil Nadu too gathered before liquor outlets as the ban on sale of liquor continues in the neighbouring state.
Some shops in AP shut mins after opening
In some places shops had to be closed down minutes after opening as controlling the crowd became difficult.
While in some places social distancing was maintained, even as women in Nellore and Vizag staged protests demanding that liquor outlets be shut down.
State Mahila Congress president Pedada Ramani Kumari said tipplers threw caution to the wind, violating social distancing guidelines in front of liquor shops. "There is no meaning in continuing the lockdown further as the opening of liquor outlets and the long queues will push the spread of Covid-19," she added.
K Prabhakar, a Vizag resident, said: "Circles were drawn in front of liquor outlets to ensure social distancing. But it was ignored in many places and police remained silent spectators."
In Tirupati excise district, of the 147 liquor outlets, 31 in containment areas were not allowed to resume sale while 116 outlets were opened. In Tirupati, 18 outlets were not opened, while in Puttur and Srikalahasti no outlet was opened as both towns are under containment zones.
Subscribe

Start Your Daily Mornings with Times of India Newspaper! Order Now