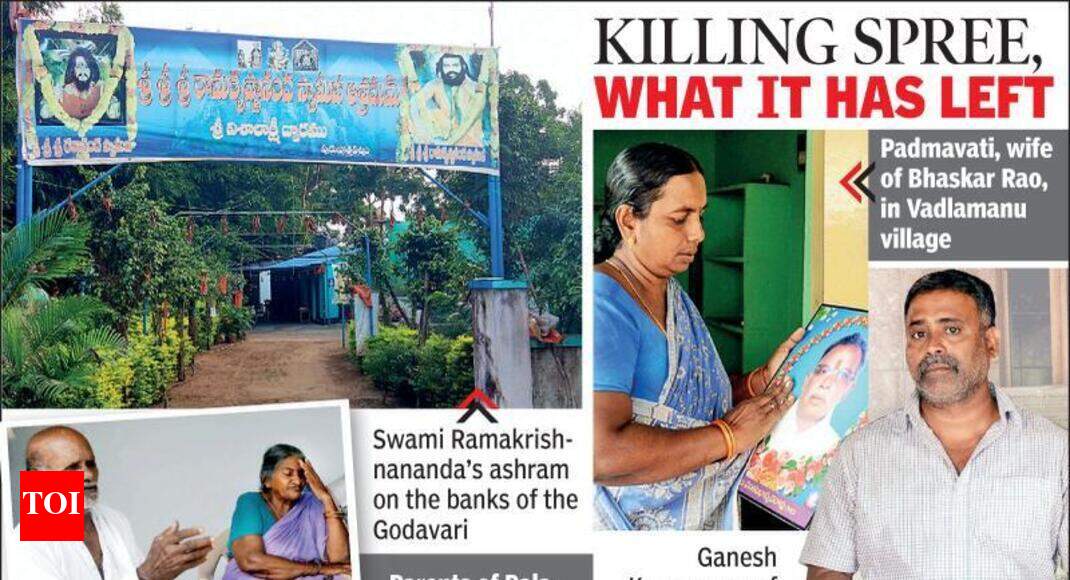 Rajahmundry: Greed for money and hidden treasure troves proved costly for god-man Sri Ramakrishnananda, who ran an
ashram
at Purushothapatnam in East Godavari district.
The
swamiji
came in contact with alleged
serial killer
Siva, who has confessed to poisoning 10 people with potassium cyanide and later robbed money and gold from them. Siva was arrested by Eluru police on Tuesday and he allegedly confessed to killing Sri Ramakrishnananda. The accused had lured his victims with the promise of doubling money and finding hidden treasure troves, claiming he possessed magical rice grains and copper coins that would change their fortune.
The 50-year-old swamiji blindly believed Siva and became his victim even as he was attending the installation ceremony of a Shiva lingam atop a hill near Purushothapatnam. Siva had accompanied him to the hill-top temple in a car but while returning, Ramakrishnananda developed severe health complications. He died on the way to hospital and his followers in the ashram thought it was a natural death.
Siva's confession to the police that he had killed the Swamiji has shocked the ashram inmates and his followers. They, however, deny that swamiji was interested in worldly wealth. Siva killed swamiji by mixing cyanide with a so-called ayurvedic medicine. Unlike in other cases, Siva could not get any money or valuables from him.
Locals told TOI that swamiji led a peaceful life in his ashram for nearly a decade. The ashram is located on the banks of river Godavari. But greed for money and treasure troves may have tempted him to come in contact with the alleged serial killer. The swamiji was revered by locals as, apart from religious sermons, he fed at least 50 people with free food daily.
The villagers refuse to believe the police's version and argue that swamiji never touched money. Swamiji hailed from Vizianagaram district and had shifted to Purushotapatnam 10 years ago to start the ashram.
On April 28, 2018 at about 9 am, he fell ill and died within a few hours. Everybody thought he died of heart attack and the body was cremated. It is not clear how and when Siva came in touch with the swamiji.
Rama Swamy, one of Ramakrishnananda's disciples, said he was not greedy. "He was a noble man and a great preacher. He used to help the poor. I don't believe he had any greed for money," he said.
Eluru DSP O Dilip Kiran, who led the investigation and nabbed 'Cyanide Siva', told TOI that the serial killer followed a pattern in choosing his prey. He had prepared a list of people who believed in rice-pulling coins and treasure troves. He also maintained secrecy in such a way that his identity was not known to the victims' family. His victims were always from different places. Siva committed four murders in a span of 45 days in Krishna district alone and the spree started with one Vallabhaneni Narasimha Rao (63) from Nuzividu on February 15, 2018. Again, no police complaint was filed.