RAJAHMUNDRY/VISAKHAPATNAM: The
water level in Godavari
is steadily rising and discharge from Sir Arthur Cotton barrage at Dowlaiswaram in East
Godavari
has increased to 10.45 lakh cusec and inching towards second-level warning.
The water level was recorded as 42 feet on Wednesday evening and is likely to increase. Release of about 1.50 lakh cusec water from Taliperu project in Telangana is the cause of sudden increase in the Godavari.
Godavari's tributary is in full flow due to heavy rains in the Agency area. Transport to dozens of villages was cut off in four merged mandals in East Godavari because rivulets are overflowing. The connectivity between Andhra Pradesh, Chhattisgarh and Odisha has been disrupted and traffic was stranded as water was overflowing on national highways.
About 36 villages in Devipatnam mandal are still surrounded by water and their plight might not change for another week. The Lanka villages in Konaseema are also surrounded by flood water.
In West Godavari district, people living in old Polavaram and Yedlapadu villages are preparing to leave their villages as necklace bund constructed between old Polavaram to Yedlapadu villages is on brink of erosion. About 10,000 people are in the grip of fear as black soil used in laying ring bund to prevent flood water entering old Polavaram village is merging into the flood water.
Irrigation minister Anil Kumar Yadav visited flood affected mandals of East Godavari on Wednesday. He said Devipatnam and Polavaram mandals were inundated for minimum flood due to the construction of coffer dam. He faulted the TDP government for constructing coffer dam without rehabilitating people in the affected villages.
Meanwhile, water level in Vamsadhara and Nagavali
rivers
in
Srikakulam
district is increasing at a worrying rate due to heavy rain in the catchment areas and neighbouring Odisha. A flood-like situation has been triggered in some parts of Srikakulam district. Some areas near Nagavali in both Srikakulam and Vizianagaram districts have been inundated and people in low-lying areas have been alerted. Meanwhile, heavy rain over past three days has created flood-like situation in parts of Vizag Agency and over 50 tribal villages have been marooned.
The state government on Wednesday sent two NDRF teams and one SDRF team to the flood-affected villages along the two rivers. As per reports, the SDRF team was deployed at Hiramandalam area in Srikakulam.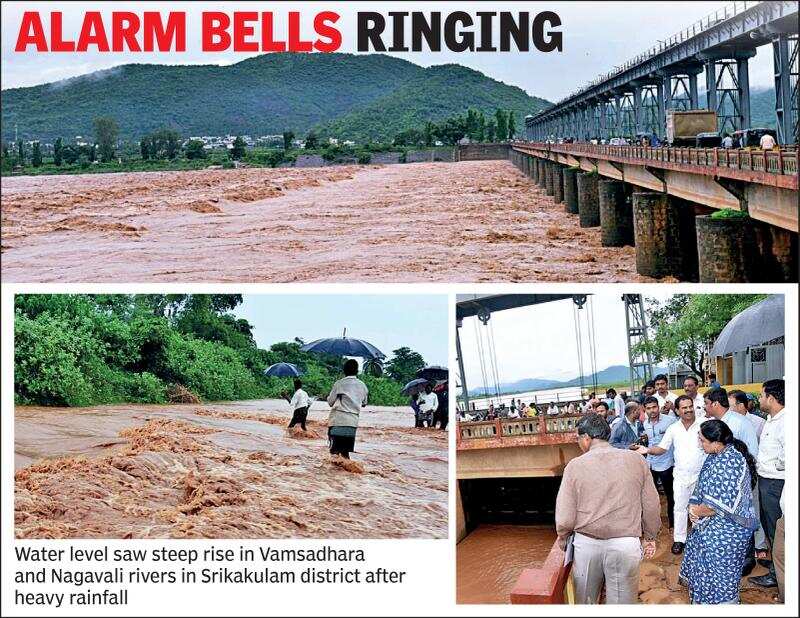 Srikakulam district collector J Nivas said on Wednesday that water levels may continue to rise still in the district and Odisha with a depression brewing above the Bay of Bengal. "The inflow is rising and is expected to touch 1.3 lakh cusec. We have alerted all villagers along the river course. Some fishermen from Ponnadi village under Etcheral mandal have gone missing in the river and rescue teams have been deployed to search for them," he added.
Srikakulam SP RN Ammi Reddy on Wednesday visited the Gotta Barrage at river Vamsadhara in Hiramandalam to review the rescue measures and directed the officers to take all possible steps to prevent untoward incidents.
Villagers have been suggested to vacate their homes and to move to higher, safer places. Relief camps have been opened in four villages as precautionary measures.
Officials have recorded outflow of 49,772 cusec of floodwater from Nagavali at Thotapalli while 93,010 cusec from Vamsadhara at Gotta Barrage. District administration has been in touch with officials from Odisha to take measures to prevent losses in the district due to floods.
Sources said that tribals in G Madugula, Chintapalli, GK Veedhi, Munchingiput, Pedabayalu mandals in the Agency are struggling to even to collect their daily supplies.