Hyderabad: Of late, BJP leaders of the party's units in both TS and AP have softened their resistance to the increase in the number of Assembly seats in both the states.
It is believed that this shift in stand has got much to do with the intervention of Union minister M. Venkaiah Naidu who is now at the helm of the efforts to bring an amendment to the AP Reorganisaton Act.
When G. Kishan Reddy was the president of BJP's TS unit, he led a delegation to both Prime Minister Narendra Modi and party national president Amit Shah and requested them not to bring any amendment to the Act to enable increase of Assembly seats as this may not bring the desirable results in favour of BJP.
Mr Reddy had claimed that such a move would be more helpful to TRS chief and Chief Minister K. Chandrasekhar Rao as he could accommodate MLAs who defected to the TRS from Opposition parties. TS BJP leaders also issued public statements often, opposing such a move.
With the Centre now seemingly inclined to bring an amendment to Section 26 of the AP Reorganisation Act to implement the provision for increasing the number of Assembly Seats in TS from the existing 119 to 153 and in AP from the existing 175 to 225 notwithstanding what Article 170 of the Constitution says, the resistance to this move appears to be gradually fading by the BJP's state units, particularly by TS BJP.
Mr Venkaiah Naidu has even told the media that an amendment would be brought before Parliament, probably by next session of the House. When contacted, TS BJP president K. Laxman told this correspondent, "We have never made any written submission to our national party president opposing increase of seats. However, we have orally communicated our wish; the move will help ruling parties take advantage of the situation by accommodating defector MLAs. It is for the Centre to bring an Amendment, we will review the situation as and when necessary."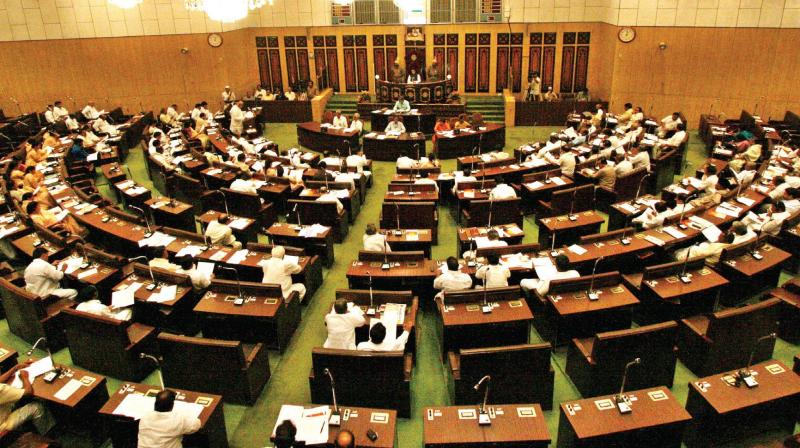 Rajahmundry Urban BJP MLA Akula Satyanarayana said "We are not going alone in elections in AP, we have an alliance with the TD and the Chief Minister is seeking implementation of the Reorganisation Act in respect of increase in Assembly seats. As such we cannot oppose the move. It is a fact that when the AP delegation met Amit Shah, he wanted to know how the party would benefit from the move. Anyway, more than us, our TS unit leaders are worried about the political benefits for TRS and Majlis due to the increase of seats."
According to a TS BJP senior leader, increase of Assembly seats will be advantageous to the MIM as it will increase its strength but for the BJP it is feared there will be no corresponding increase.