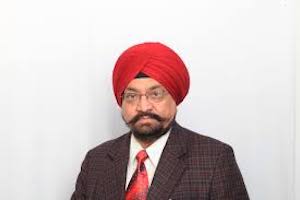 Eye Foundation of America is dedicated to the elimination of avoidable blindness in children worldwide, and, in India. Dr. VK Raju, an internationally reputed ophthalmologist, is founder and president of the Eye Foundation of America.
Late Arthur J Pais, a senior journalist with India Abroad recorded his impressions of Dr. VK Raju in the publication's August 21, 2009, edition which I have always rated as one of the best profiles I have ever read. I am tempted to quote from it.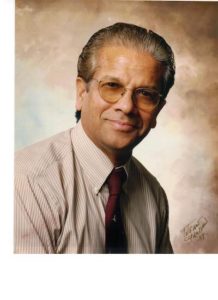 "Dr. VK Raju has received many honors for his humanitarian work in saving the eyes of the poor not only in India but in half a dozen countries from Iraq to America, but the emotions he felt for Srinu Maddula, who earned his Doctorate in Pharmaceutical studies from Rutgers University in 2009 and began working for a major company, and who presented his first pay check to the Eye Foundation of America that Raju started in 1979, was transcendent.
It was in 1979 that Maddula had corneal transplants to both eyes, at the age of 2. His family had travelled to Morgantown, West Virginia, Raju's home for more than three decades (now four decades). The surgery was free and most of the other expenses were borne by Raju. Now, it was time for Maddula to pay him back.
"You feel blessed when something like that happens", he said, referring to Maddula's gesture. "
Maddula who is the poster boy of the Eye Foundation is deeply attached to Dr. Raju and the Foundation. He is now actively involved as one of the EFA Board members and is a regular and generous donor
EFA began its work in 1979 in Morgantown, West Virginia, USA. EFA grew out of his earlier work providing services and treatment near his birthplace in Rajahmundry, a town in Southeast India's Andhra Pradesh. Raju organized teams to go to remote areas and deliver eye care in areas where there otherwise were none. These traveling clinics were known as "eye camps." (Eye camps remain a standard part of the Foundation's services today.)
Raju dedicated virtually all the spare time he had outside his busy ophthalmological practice in West Virginia and used his own funds to cover many of the expenses. Eventually it became apparent that the lack of accessible, affordable eye care was very large and shared by an enormous number of people worldwide. In order to battle avoidable blindness on a global scale and to gain strength by partnering with other organizations, Raju created the 501 © 3 nonprofit organization that we know today as the Eye Foundation of America.
Today, Foundation has grown far beyond its original size and scope but never outgrew the vision of its founder, who continues to look ahead. EFA has built modern eye hospitals and trained ophthalmic assistants and other personnel to carry on our work. We provide workshops and fellowships for physicians and medical students throughout the world. We also conduct research to find better ways of preventing blindness, to learn how to distribute Vitamin A efficiently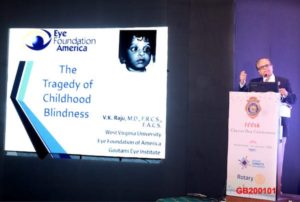 His team has done wonders, considering the tremendous work done by them.
* 2.5 million+ outpatients
* 350 thousand+ eye surgeries
* 30 thousand+ on children
This is completed by the Eye Foundation of America team since 1977 in India and 21 other developing countries. Additionally, the Eye Foundation of America lays great emphasis on teaching and training of health professionals who receive the Foundation's support at every level.
According to the World Health Organization (WHO), there are as many as 1.4 million blind children worldwide who are affected. WHO reports that eighty percent of the world's 45 million blind people live in developing countries. The Eye Foundation of America's (EFA) mission is to go where the need is greatest — often rural and remote areas of developing countries where there is no medical care or where the cost of the care is prohibitive.
EFA provides medical eye care and treatment that is both affordable and accessible to all on equal terms, with the goal of eliminating avoidable blindness, especially in children. They take extra steps to ensure that our treatment is of the highest quality–comparable to that provided by the best hospitals in the world. EFA also delivers that care in ways that maintain each patient's self-respect and dignity.
EFA has treated Native Americans, wounded refugees in war-torn Afghanistan and Iraq, and have built eye hospitals in India–one with a wing devoted exclusively to children. They work in more than 14 countries and plan to extend that reach in the years ahead.
Although the Eye Foundation of America serves people of all ages, they have a special place in their heart for children because it is they who have the most to lose. Visually impaired or blind children grow up without the same advantages as sighted children. Unable to read and write, they often cannot support themselves as adults and become a burden on their families and communities.
The Eye Foundation of America's Goutami Eye Institute in Rajahmundry, Andhra Pradesh sponsors a free 6-month certificate program that trains local young men and women to become ophthalmic assistants. They pay them a living stipend during training and often hire graduates to staff hospitals. The career training helps them support themselves in places where jobs are difficult to find. Eighty percent of the graduates come from poor families.
The Goutami Eye Institute conducts workshops and other programs to teach its staff about new medical techniques and equipment. This program has been expanded to include physicians and medical practitioners from all over the world. Some workshops provide Continuing Medical Education (CME) credits. Fellowships available through Goutami Institute allow postgraduate physicians from India to further their education.
The commitment of Goutami towards training and education in eye care is spread across medical and non-medical spheres. Long-term fellowships for young post-graduates and Short-term fellowships and observer ship for practicing ophthalmologists and periodic Continuing Medical Education programs with eminent national and international faculty are available for medical fraternity.
Training of Key Informants, like teachers, medical practitioners, primary health care workers, etc., in identifying and referring people, especially of children, with eye problems is done periodically.
Education of community on avoidable causes of blindness and visual impairment is undertaken in the form of patient information series on different eye aliments and through health talks.
It is to achieve this end that Dr. Raju, in collaboration with his daughter, Dr. Leela Raju, authored a book "Musings on Medicine, Myth, and History – India's Legacy". It is a masterpiece to be read by everyone who would like to know hoe medicine and surgery came out of India.
For his monumental work, Dr. VK Raju has been profusely recognized, honored and awarded. The latest recognition came his way early this year when he was admitted to Toledo University Global Medical Missions Hall of Fame for his efforts to eradicate blindness.
Dr. Raju has traveled round the world, attending conferences and meetings; speaking at various national and international meets; interacting with great minds to find solutions to the problems of health, particularly blindness among children. Most of his time is spent in traveling.
He is a keen student of history and admires the great historian Padma Bhushan Dr. Romila Thapar who he recently visited in Delhi and interacted with her on many issues of mutual interest.
At the speed and the zeal, with which Dr. Raju is working to fulfil his mission of life to eradicate preventable blindness among children, it can be expected that he will set up more medical facilities, apart from the Goutami Hospital he is running at Rajahmundry in Andhra Pradesh, India. Of course, he alone cannot do it. He will need cooperation of government of India and people. Government of India could play a contributory role by providing certain facilities to set up such medical centers. And people can contribute their bit by donating liberally to a humanitarian effort of great significance. I learn, Dr. Raju is already working on a plan to have a series of medical facilities in various States of India. It will be worthy of all lovers of humanity to chip in to support a historic mission of The Eye Foundation of America.
The Eye Foundation of America Team consists of extremely dedicated people who are totally passionate about the cause that Dr. Raju has espoused of preventing avoidable blindness among children of the world.
(The author is chief editor of the weekly English newspaper 'The Indian Panorama')