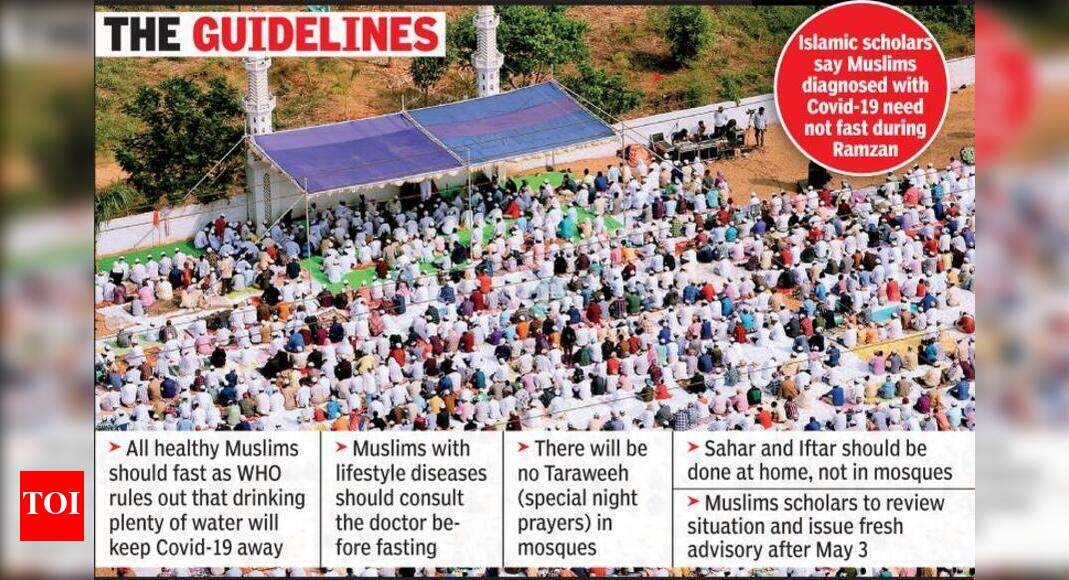 With the country in lockdown due to
Covid-19
, the aura of festivity associated with
Ramzan
, the Muslim month of fasting, will be missing this time in AP.
Ramzan will begin in India on April 25 subject to sighting of the crescent, and Muslim religious scholars in Vijayawada, Guntur, Visakhapatnam, Anantapur, Kurnool, Rajahmundry, Chittoor, and Kadapa have appealed to the principal minority community to stay off congregational prayers in mosques.
Ramzan is the period when Muslims spend a major portion of their time in mosques, offering individual and congregational prayers. It is also the time when special congregational night prayers called Taraweeh are offered. Muslim religious leaders have urged the community to forgo Taraweeh prayers in view of the lockdown till May 3. Incidentally, Saudi Arabia has suspended all congregational prayers including Taraweeh at the grand mosques in Mecca and Medina, two of Islam's three holiest shrines, during Ramzan this year.
Mohammad Dawud, AP secretary (finance) of Jamaat-e-Islami Hindi, told TOI that the Jamaat has appealed to Muslims stay at home and offer all prayers at home. "Do not visit mosques for daily or Taraweeh prayers. Offer prayers at home with family members maintaining social distance," he said.
Moulana Syed Ghulam Samdani Ali Quadri, president of Seerat-un-Nabi Academy, said the question of offering Taraweeh prayers in congregation in mosques would not arise. "When Muslims have forgone Friday congregational prayers and five obligatory prayers in mosques, they will also stay away from Taraweeh. Unlike Friday and five daily prayers, which are obligatory (Farz), Taraweeh prayers are Sunnah (tradition of Prophet)," he said.
Moulana Ali Quadri added that a formal fatwa has been issued by Jamia Nizamia, a leading Islamic deemed university, with a list of do's and don'ts to be followed during Ramzan to prevent the spread of the novel
coronavirus
.
Moulana Mohammad Altaf, of Ahle-Sunnat Wal Jamaat, said during epidemics it is permissible to offer obligatory prayers at home. One need not visit mosques for the daily prayers even during Ramzan in view of Covid-19 threat and lockdown norms to avoid congregations.
Moulana Khalid Rashid Firangi Mahali, chairperson of Islamic Centre of India, has also issued a "no congregational prayers" advisory for Ramzan. "While fasting is compulsory for healthy Muslims, Sahar (pre-dawn meal) and Iftar (post-fast meal) and prayers can be had at home. It is a tradition to break the fast together and in view of social distancing and lockdown, congregations should be avoided," he said.
Islamic scholar Moulana Abdul Kareem said though congregational prayers should be avoided, Muslims should continue with their charity and offer food to the needy during the holy month. Zakat should be paid in advance in view of the suffering of daily wagers and the poor due to the lockdown, he added.
Subscribe

Start Your Daily Mornings with Times of India Newspaper! Order Now