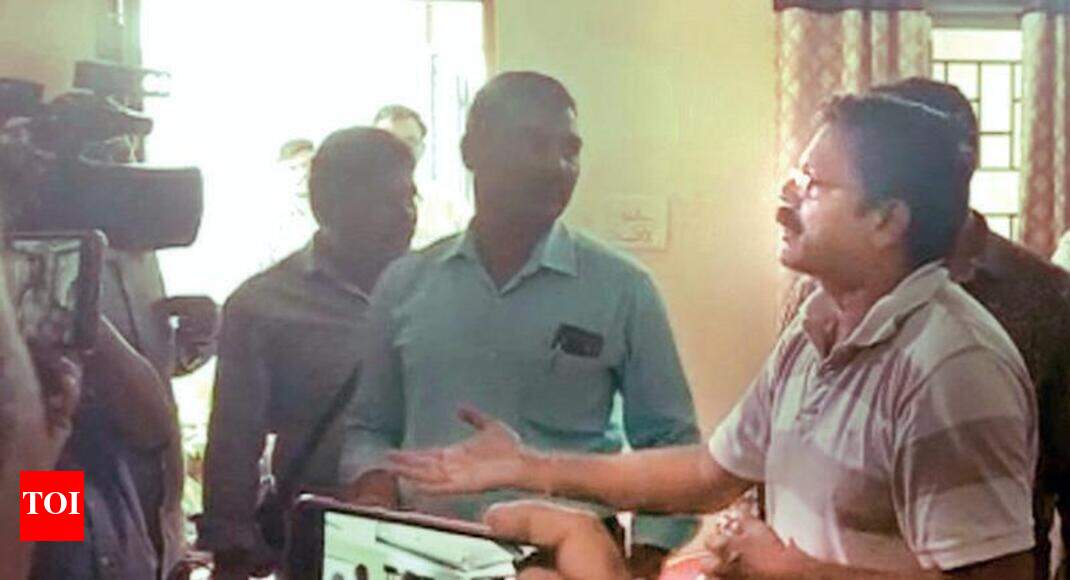 Visakhapatnam:
ACB
(Anti-corruption Bureau) sleuths unearthed illegal assets worth Rs 2.74 crore upon raiding properties of Tangella Harikrishna,
chief vigilance officer
(CVO) of Andhra Pradesh Eastern Power Distribution Company Limited (
APEPDCL
) on Thursday. Following the raid, Harikrishna claimed that he is an honest officer and that he does not own any illegal assets and that the raid is motivated by a conspiracy.
The ACB sleuths led by deputy superintendent of police, ACB, Srikakulam, B Ramana Murthy raided Harikrishna's home in Vizag as well as houses of his relatives simultaneously in five others places, including Rajahmundry and Vijayawada.
The ACB conducted the raid in response to allegations that the officer owned assets disproportionate to his known sources of income.
Harikrishna's allegedly illegal assets comprising cash, gold, land holdings and houses that were seized have been valued at around Rs 2.74 crore (as per the registration value). But according to sources, the assets could be in excess of Rs 20 crore as per market rates.
ACB officials said that they found documents pertaining to immovable illegal properties including a house site measuring 300 sq yards at Chollangi village in East Godavari district, a flat in Vijayawada, vacant land measuring 3.2 acres in Srikakulam district, another vacant land measuring 25 cents at Mattaparru area in West Godavari district and another house site at Mangalagiri in the name of Harikrishna's wife Padmaja Rani.
They also found the assets including house sites at Paradesipalem and Madhurawada in Vizag and a flat in Hyderabad in the name of Harikrishna's son Raja Harsha.
Apart from the immovable assets, the officials found two cars and two bikes, 260gm gold ornaments (worth Rs 6.6 lakh), 2.8kg silver ornaments (worth Rs 2 lakh), household articles worth Rs 19 lakh, bank balance of Rs 17 lakh and Rs 20,000 liquid cash.
Harikrishna had joined the police force in 1989 as sub-inspector and rose to the position of additional superintendent of police (ASP). He had worked in the ACB wing for around five years and had arrested some corrupt officials for demanding and accepting bribes and amassing illegal assets.
Speaking to the media, Harikrishna said that there was a conspiracy behind the raid. He added that the state government has recognised his services and he has received many awards.
"I purchased the properties with permission from the government and I did not indulge in any
corruption
. I will prove my innocence and honesty in court," he added.
ACB officer B Ramana Murthy said that they have arrested Harikrishna and produced him before the ACB court in Vizag.