Boat tragedy: 13 still missing, 34 bodies recovered till now
Thursday, September 19, 2019
0
0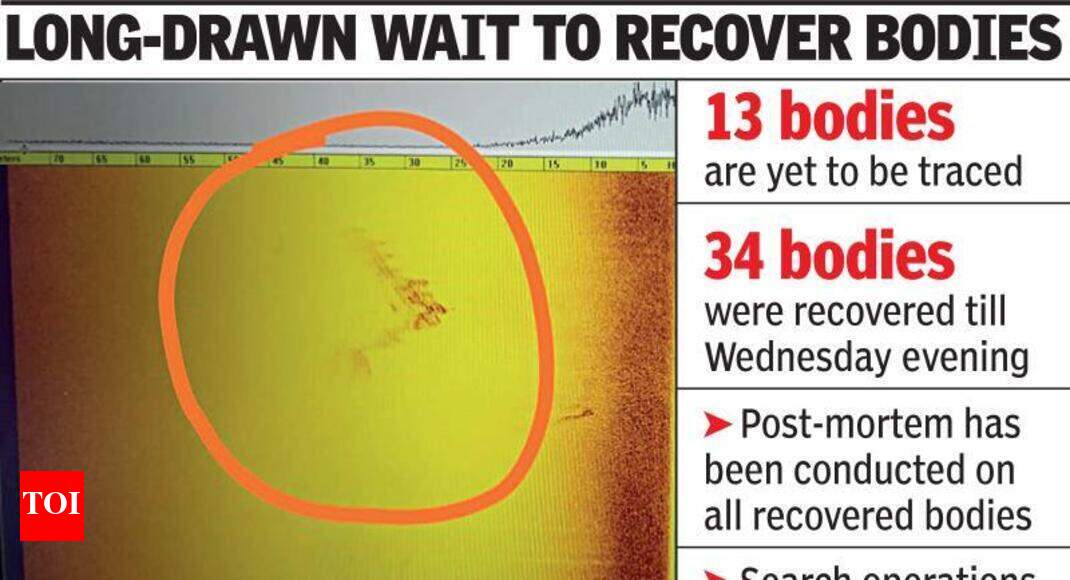 Rajahmundry/Hyderabad: Rescue teams have identified the location of the tourist
boat
that capsized in
Godavari
river at Kuchuluru in Devipatnam mandal of East Godavari district on Sunday.
A team of deep
divers
from Uttarakhand has identified the boat at a depth of 210 feet under the water using side-scan sonar. The identification of the boat is significant as another 13 bodies remain to traced, with some bodies feared trapped in the boat.
Thirty-four bodies have been recovered from the river till Wednesday evening and postmortem has been conducted for all retrieved bodies. Another 13 persons are yet to be traced while 26 persons were rescued. With high inflow of water and high levels of sediment in the Godavari, lifting the boat from the depths of the river is turning out to be a difficult task.
Meanwhile, a blanket order issued by the ports officer, Kakinada, based on a flood contingency plan issued by river conservator a fortnight ago on movement of tourism boats has now come under the scanner after the boat tragedy. Curiously, the irrigation department said there was no flood in river Godavari on the day of mishap, September 15.
A circular of the Andhra Pradesh ports department (a copy of which TOI is in possession) says traffic can be restored above Dowleswaram barrage when water level falls below 11 feet. According to the official data, the water level at Dowleswaram barrage was only 11 ft and discharge was 4.99 lakh cusecs.
Interestingly, the circular was issued by the ports department on August 30 based on a representation by Bhadradri Papikondalu Boat Operators Welfare Society. It was later sent to all boat owners associations and AP tourism department in Vijayawada.
Based on the circular, the boat owners' association is arguing that it was not their fault to operate the boat as the focus has shifted to the two boat drivers, who were dead in the mishap.
The association and irrigation department are blaming the drivers for their inexperience in handling the boat in times of river turbulence and whirlpool.
Executive engineer, Godavari headworks division, Dowleswaram and river conservator R Mohan Rao told TOI that there was no flood on the day of the boat tragedy. "As per the flood manual, if the discharge is 10 lakh cusecs, restrictions are imposed on movement of boats. The water level should be above 11 ft. At 6 am on Sunday, the water level was 7.6 ft and at noon, it was 7.3 ft," he recalled.
"It rained in the area and there wass turbulence in the river. Water level in Bhadradri had increased by 1 ft. The two drivers, who were brought from Kakinada, were experienced in sea waters and not in the river waters. On the sea, they have to tackle waves. The river may look normal, but there is a lot of velocity and current. The drivers had also failed to avoid the whirlpool," Mohan Rao explained.