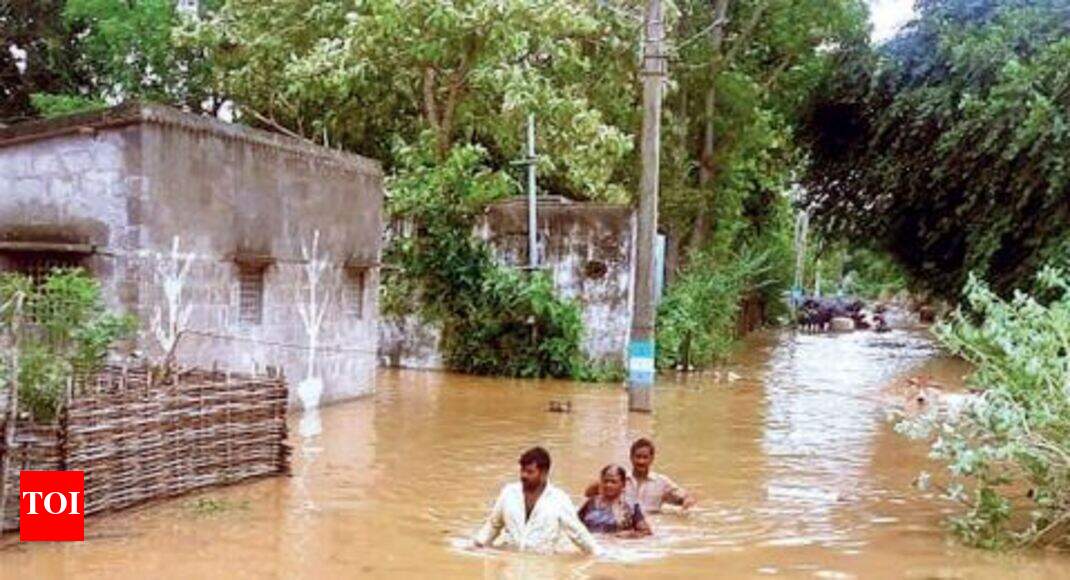 RAJAMUNDHRY: About 400 habitations are marooned and hundreds of people moved to safety in East and West
Godavari
districts as the flood level in the river Godavari touched the first danger mark on Saturday. The water level in the river is steadily increasing with heavy inflows from the upper reaches thanks to incessant rains in the last four days.
NDRF personnel with boats were deployed to the affected villages to move people to safety. An alert has been sounded in island villages and boats kept ready to move people in case the flood discharge increases. Danger warning signal one was hoisted at Bhadrachalam in the upstream.
All the 175 gates of Arthur Cotton Barrage near Rajahmundry have been opened to allow a discharge of 11.10 lakh cusecs of flood into the Bay of Bengal. Boat rides in the Godavari has been suspended. Meanwhile, the IMD predicted moderate to heavy rainfall in the next two days in parts of coastal Andhra. Flood level in the Godavari is expected to increase further.
Chief minister YS Jaganmohan Reddy, who is currently in Israel, reviewed the flood situation with senior officials. The state government announced distribution of 25 kgs of rice and other essential commodities to the affected families.
Water level at Bhadrachalam stood at 46.40 feet on Saturday evening and the water level is steadily rising.
B Venkata Ramana, RDO, Amalapuram, visited Thuragaraye bridge and Inavilli causeway bridge on Saturday and said the official machinery is geared up to meet any untoward situation due to
floods
in island villages in Amalapuram division.
He told TOI that water is overflowing on Muktheswaram, Sakhinetipalli and Appanapalli Lanka causeways and country boats have been pressed into service to reach out to people in island villages. Mechanized boats have been placed at Ganti Pedapudi where four villages were cut off as a temporary bridge was washed away. Many island villages in Konaseema region have reported soil erosion resulting in falling down of coconut trees.
The flood condition Devipatnam mandal in East Godavari is still grim as houses remained submerged in several villages. Many people have been moved to nearby hillocks for safety. More than 30 villages in the mandal are either submerged or cut off from the mainland.
ITDA, Rampa Chodavaram authorities are providing essential commodities for the tribals and NDRF teams have evacuated tribals from their habitats in 10 villages even though they are reluctant to leave their homes. Godavari water has entered famous Gandi Posamma temple in Gonduru village and the temple authorities have asked the devotees not to come to the temple till the water recedes.
In Rajahmundry, NDRF forces have evacuated fishermen from two Lanka (island) villages - Bridge Lanka and Pichhukalanka. Security has been beefed up along the banks of Godavari to prevent people from entering the river.
In merged mandals in the agency area of East Godavari, traffic has come to a standstill on National Highway 30 (Ibrahimpatnam in Vijayawada to Jagdalpur in Chhattisgarh) and National Highway No 226 (Chintur-Odisha) as flood water is overflowing. Transportation to about 70 villages has been cut off in four merged mandals of Chintur, VR Puram, Koonavaram and Yetapaka.
In West Godavari district, the water level has touched the danger mark at many places. Following heavy inflows from the catchment area and the floodwaters from Sabari, Indravati, and rivulets in uphill areas have marooned many villages in Velairpadu, Kukunuru and Polavaram mandals. About 50 villages in Velairpadu and Polavaram mandals were marooned and officials are trying to reach those villages to shift the victims to safer places.
Meanwhile, the flood water level which was recorded 12.38 metres at Polavaram on Saturday morning increased to 12.82 metres by evening. floodwater is flowing 2.2 metres above the spillway of Polavaram dam.
Officials said another seven metres increase in floodwater level will inundate the upper cofferdam completely.