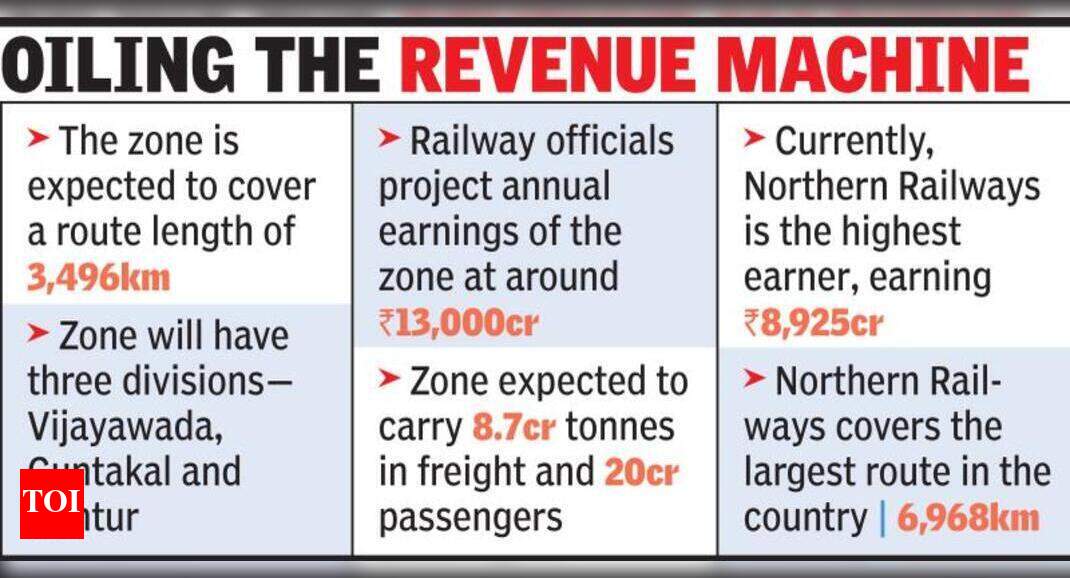 Visakhapatnam: In what comes as good news for the city and the Visakhapatnam region, officials have projected that the new South Coast Railway (
SCoR
) will be Indian Railways' highest
revenue
generator with projected annual earnings of around Rs 13,000 crore.
Till now, it is the Delhi-based
Northern Railways
that earns the highest revenue with the sector having earned Rs 8,925 crore as per the latest report. The Northern Railways covers 6,968km— the largest route in the country.
The SCoR, which is the 18th railway zone in the country will cover a route length of 3,496km, according to a senior railway official who added that the zone is projected to transport nearly 8.7 crore tonnes of freight and 20 crore passengers.
The reasons behind such high projected earnings include four major ports located nearby— Krishnapatnam, Kakinada, Gangavaram and Visakhapatnam and the four major railway stations— Visakhapatnam, Vijayawada, Tirupati and Rajahmundry.
Moreover, there are seven loco sheds— three electric and four diesel, seven coaching depots, the Rajahmundry-based MEMU car shed, wagon workshops, railway land for commercial operations, tourist spots, vast coastline and the Chennai-Howrah railway line.
"The four ports in Andhra Pradesh will be the backbone of SCoR which will contribute nearly 60-70% of revenue earnings by the zone," the railway official told TOI.
Additionally, the Indian Railways has decided to build a second main railway station in Vizag city and another at Marripalem. These will be built at an estimated cost of Rs 76 crore. These stations are expected to provide advanced passenger amenities. "We are waiting for the date of commencement of SCoR. It will hopefully be done in the first quarter of the next fiscal," the official said.
The SCoR zone was announced by the railway ministry in February 2019. A sum of Rs 170 crore was sanctioned for the development of the zone in the recent Budget. "Existing infrastructure in the city is enough to commence the zone," added the official.