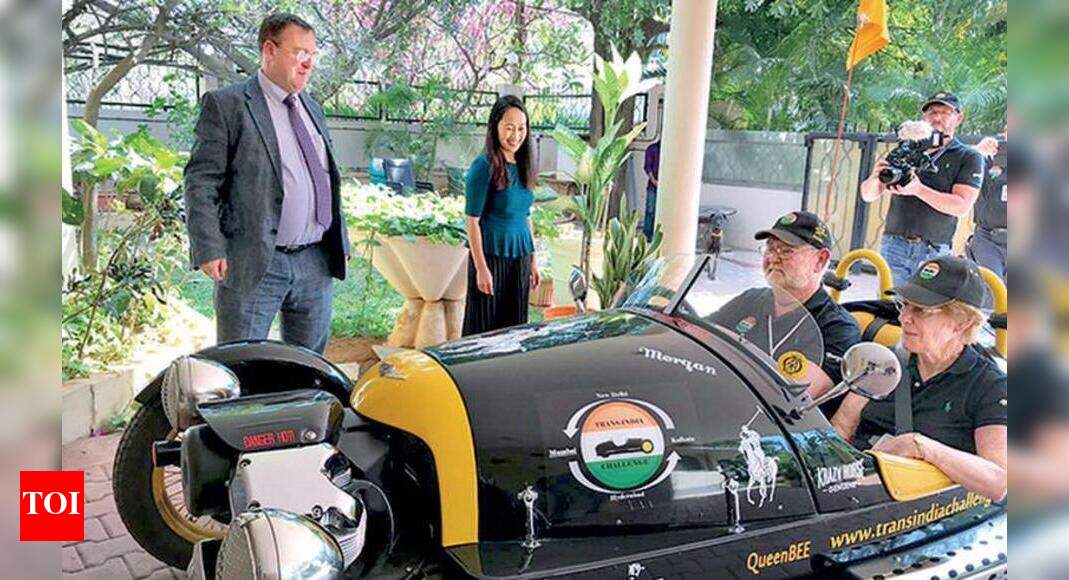 Visakhapatnam: British couple Pat and Alan Braithwaite were in the city recently as part of a 5,600-km-long Trans-India Challenge. Travelling in their yellow-and-black Morgan three-wheeler Queen Bee, the 34 day journey by the couple from Suffolk will raise funds for the NGO Goonj's initiative to empower rural communities and contribute to a 'circular economy'.
The couple departed from Mumbai on February 1, and has since visited Pune, Solapur, Hyderabad, Khammam and Rajamundry and will next head north towards Kolkata.
Queen Bee arrived in the city with around 1,200 km of the road trip complete. The journey, however, was not smooth throughout. The specially-designed suspension on the vehicle was put to test after leaving Khammam and crossing over into Andhra Pradesh, but after running checks on arrival in Rajahmundry, Queen Bee was declared in perfect health to continue to
Vizag
. Along the way, the car and husband and wife Alan and Pat have been greeted with smiles, waves and requests for selfies. Traffic has often come to a standstill as motorists and pedestrians stopped to photograph Queen Bee.
Alan (73), an entrepreneur, said, "The roads have generally been good and India's drivers have been very supportive towards us. However, day six threw up some surprises and the road quality, combined with the heat, made it an unexpectedly difficult day. But no one expected this to be easy."
Adding that cars such as Queen Bee are a rare sight on India's roads, he said, "I have a deep connection with India. My grandmother is from Mysore and my grandparents were married in Mumbai. My mother is from Belgaum and my parents got married in Shimla. India is very close to my heart and I adore it. This is my third
visit
to India but this adventurous ride which is the first one makes it more special and meaningful."
Pat (73) said, "Our drive on the 30-km-long coastal stretch of Visakhapatnam was amazing and we loved the journey. We also had a great experience while interacting with the students of Gitam University." The couple added that they are partnering with Goonj to raise awareness about the organisation in and outside India and to help fund its projects on the circular economy.
Speaking about the Trans-India Challenge, British deputy high commissioner Andrew Fleming said on a visit to the Port City, "We are glad to welcome Alan Braithwaite to the region. Undertaking this ambitious initiative so soon after a major heart operation is an example to many. There is huge potential to leverage the circular economy to new levels for the benefit of India's rural communities."