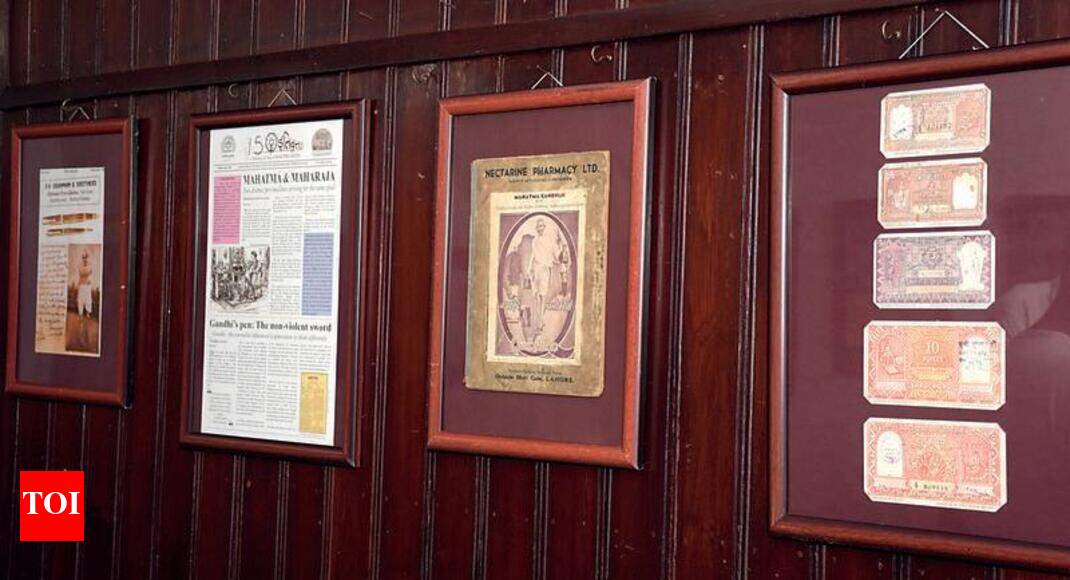 Vadodara: From Mahatma Gandhi's photograph that was used to promote hair oil brand and the advertisement released by the Ratnam Pens, the 'swadeshi' pens that brought fame to Andhra Pradesh's Rajahmundry and the pen-maker K V Ratnam, all this and much more is on display at a small pen shop-cum-residence at Vadodara's Kothi area from Gandhi Jayanti from Wednesday.
City-based collector Atul Shah, who runs his ancestral shop, is proudly displaying the collection of the Mahatma being used as brand.
Atul Shah, 65, is constantly upgrading the collection that he inherited from his father Natwarlal. He has collection of books, paintings, portraits, stamps, sketches, sculptures, newspaper cuttings among others that his father had left behind.
The collection that opened for a week for public also includes issues of 'Buddhiprakash', 'Pyara Bapu' and 'The Navyug' magazines.
The Diwali special issue of 'The Navyug' published on October 31, 1948, has Gandhi's picture in a Bombay-based firm Bombay Agarbatti Company's Rat brand incense sticks and jasmine hair oil.
Like the silver coins with images of Goddess Laxmi and Lord Ganesha which people gift to each other during auspicious occasions, an Ahmedabad-based firm – Bansi & Co. had issued silver coins with Mahatma Gandhi's image on them.
A Chowpatty-based firm had released a calendar with the message and portrait of the Mahatma with message of non-violence in 1948.
"I am no expert on Gandhiji but it was my father's interest in Gandhi because of which I got fascinated with his personality," says Shah.
He recollected how his grandfather based in Mumbai used to take his father along to attend Gandhi's public meetings.
After noticing Natwarlal's interest in Gandhi, Ramakant Achrekar, a famous painter had gifted him a pencil sketch. "Since then our collection has increased," says Shah, who not only has a collection of around 200 books on Gandhiji's life but also gramophone records, including the one titled 'Mahatma Gandhi Centenary Commemoration Record' released in 1969 by Great Britain with voices of Mahatma Gandhi, His Grace the Lord Archbishop of Canterbury and Earl Mountbatten of Burma.