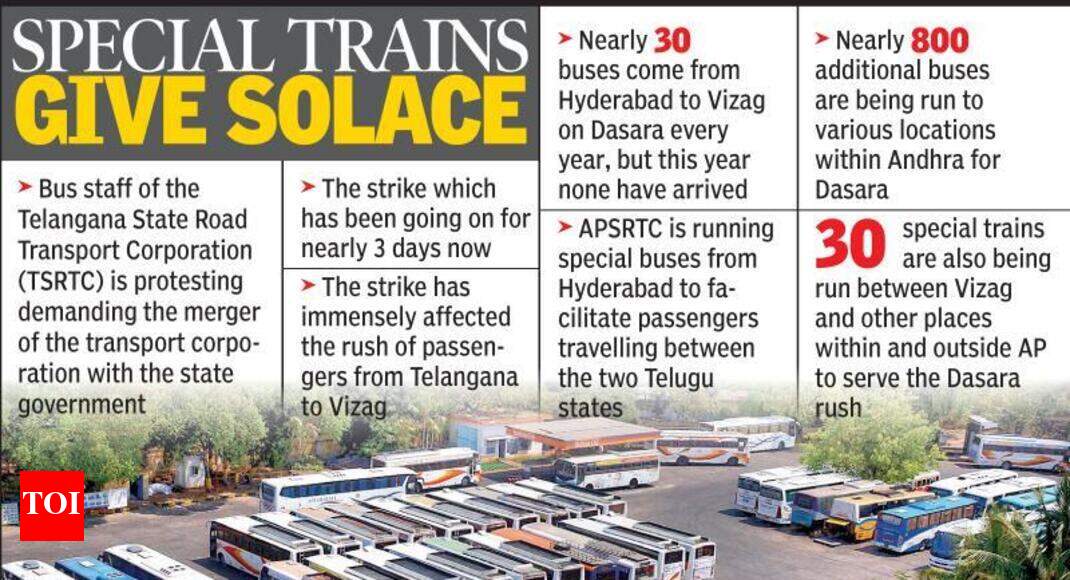 Visakhapatnam: The on-going protests by the staff of the
Telangana
State Road Transport Corporation (TSRTC) have put a damper on Dasara celebrations in the city. Vizag sees a lot of people coming into the city this part of the year. This year however, the
TSRTC
bus
strike
has made it difficult for people to travel between the two Telugu states. The TSRTC workers are on a strike demanding that the transport corporation be merged with the state government.
According to K Venkata Rao, deputy chief traffic manager of the
Andhra Pradesh
Road Transport Corporation (APSRTC), Vizag, nearly 30 buses from Telangana come to Vizag every Dasara. This time, none have arrived.
"We have made alternative arrangements like operating APSRTC buses from
bus
stations in Telangana, but even then, the strike has had a massive impact on Andhra's Dasara rush this year, particularly along the Hyderabad and Vijayawada route," Venkata Rao told TOI.
MY Danam, the regional manager of APSRTC said that even though the rush of passengers from Telangana has gone down, there has been a rush for short distances like to and from Rajahmundry, Bheemavaram, Amalapuram, Parvatipuram, Kakinada, Srikakulam and Vizianagaram.
Danam said that nearly 800 additional buses are being run across various routes to cater to demand during the festival season.
These 800 buses include 87 buses to Hyderabad, 250 buses to Vijayawada and around 200 buses to places in Srikakulam, Danam added.
Meanwhile, railway officials said that several special trains are being run to facilitate passengers travelling between Telangana and Andhra Pradesh. A spokesperson of the Visakhapatnam railway station said that around 32 special trains are being run apart from the regular 122 trains that are travelling from Visakhapatnam to Hyderabad.
"This year, some special trains are being run from Srikakulam to Secunderbad instead of Vizag. This will help passengers of north Andhra Pradesh too," the railway spokesperson said.
Special trains like the Uday Express between Vizag and Vijayawada and other trains between Vizag and Araku and Vizag and Allahabad are also being run to cater to the Dasara demand.