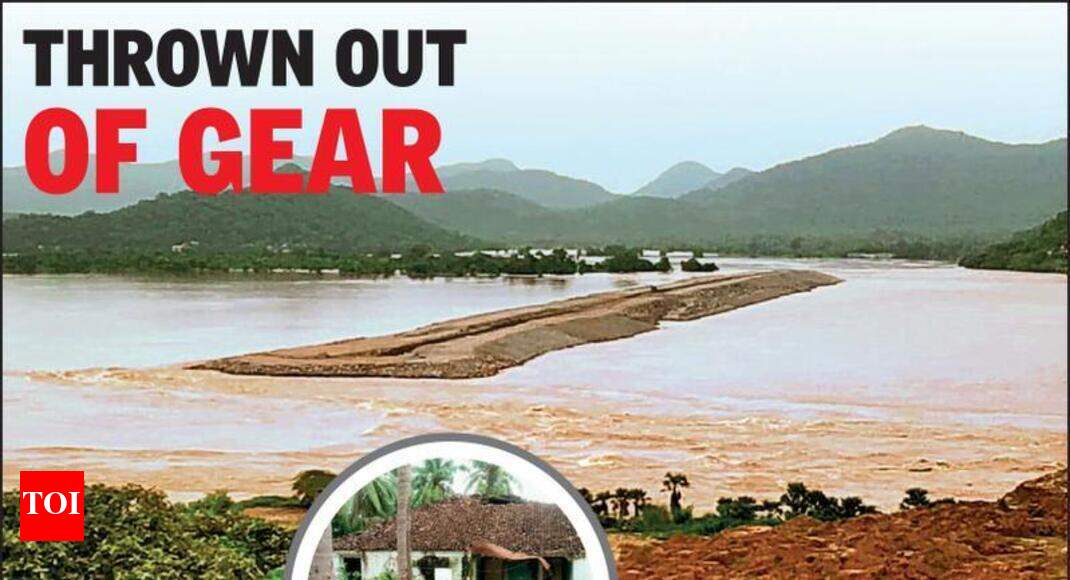 Rajahmundry: To the immense relief of people in the twin
Godavari
districts, water level in the Godavari has begun to recede on Tuesday.
The water level was down to 14.60 feet at Sir Arthur Cotton barrage in Dowlaiswaram on Tuesday evening and 14 lakh cusecs of water was being released into the sea. The water level has fallen to 39.90 feet at the Bhadrachalam project and the reservoir authorities have withdrawn the first warning.
Irrigation authorities said the second warning may be withdrawn by Tuesday night at the Sir Arthur Cotton Barrage.
Though water level is receding in the Godavari, flood scare remained in the Agency areas and Konaseema. People in island villages are unable to move out of their homes as water still surrounded their houses. The villagers are reluctant to leave the village as they have tethered their cattle on the banks of the Godavari. For most of the residents of island villages, boats are the only lifeline.
Tribal villages in Devipatnam mandal will have to spend another week cut off from the main land. As the villagers are reluctant to stay in relief camps, the elderly and the sick are facing a tough time.
Devipatnam main road, China Ramanayya Peta-Devipatnam road and Dandangi-Purushottapatnam road are still under water. About 1,200 houses in Devipatnam mandal were submerged leaving 2,500 families affected and 22 villages in Devipatnam mandal remain marooned.
Meanwhile, people in the four upstream merged mandals in
East Godavari
heaved a sigh of relief as water started to recede rapidly in the Godavari. Still many villages remain cut off and main roads are under water in the region.
Tribals in 19 villages in Polavaram mandal in West Godavari are without any transport facility. The authorities, too, are clueless about their condition.