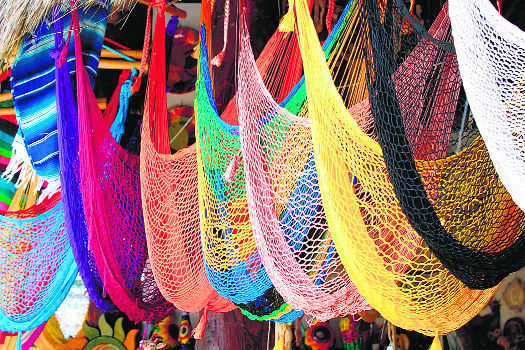 SANDEEP SINHA
At the roundabout near the Sector 17 bus stand in the heart of the city, a colourful tapestry of meshed nets displayed in a neat row catches the eye. Yellow, green and blue, they are stretched out in a long file and attending to them is a man, busy folding them or checking out his ware. Ramu or Ramulu, 38, is from Srikakulam in Andhra Pradesh. Ramu keeps coming to Chandigarh to sell his ware. The 'jhula' or hammock as it is called here or 'Uyyala' as he says it is called in Telugu, has a great market here and not just in Chandigarh, but in cities like Amritsar and Pathankot too.
Ramu is basically a fisherman who spends his time netting catch in the Bay of Bengal. From Srikakulam, he comes to Delhi by train and then to Chandigarh on a tempo with his stuff loaded on it. The nylon net is made in Srikakulam and other areas of Andhra on a large scale and costs around Rs 30 to Rs 40, which he sells at a price varying between Rs 200 and upwards. A couple alights from a scooter to buy the hammock. "Rs 220," he says before finally agreeing to sell at Rs 180. He stays in Nayagaon in a two-room rented accommodation. Ramu says he earns enough to meet his expenses in Chandigarh and save the money for back home. He stays in the city for about a month and when the stock gets exhausted, goes back to Andhra to replenish his supplies.
In the months between, he goes for fishing, in a boat that he rows with oars. "There is a lot of fish variety in the sea. Shrimp, prawn and others…They fetch a good price," he says.
As he warms up, I tell him of a cousin who lived in Rajahmundry working for a paper mill and the thrill of crossing the Godavari in a train over the open rail bridge and he smiles. He has not studied much but Ramulu is worldly-wise, enough to understand the importance of hard work and making money, straddling the land and sea with equal ease.