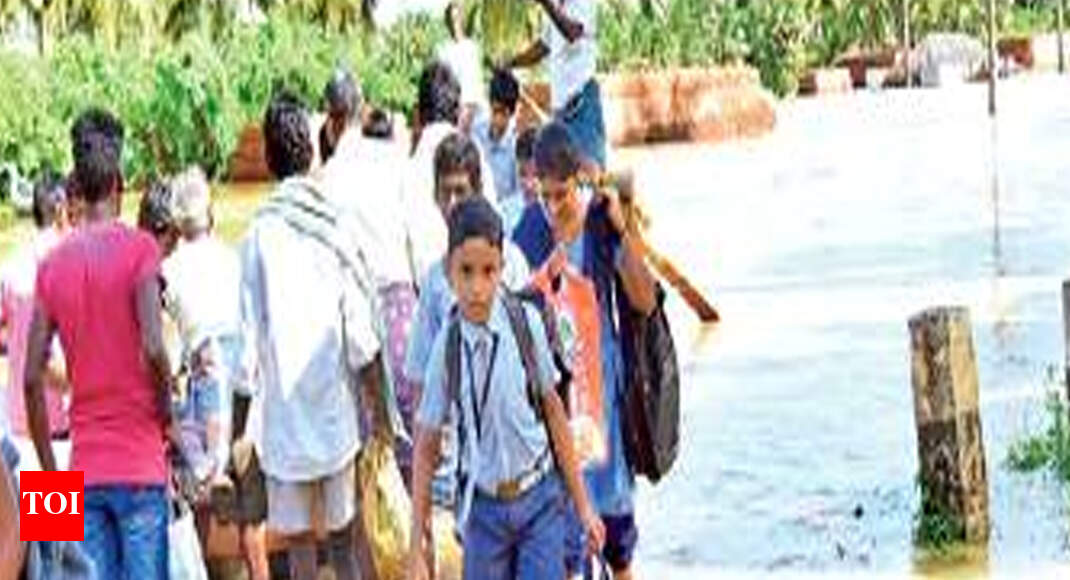 RAJAHMUNDRY: The
flood
in river
Godavari
is gradually receding but it may take three more days for normalcy to return in hundreds of marooned villages in East and West Godavari districts of Andhra Pradesh, officials said on Monday.
The second warning has been scaled down to first as inflow at Sir Arthur Cotton Barrage at Dowaleswaram fell to 11.32 lakh cusecs in the evening.
The first warning signal is likely to continue for the next couple of days as over four lakh cusecs of water is being discharged from Pranahita in Telangana.
The situation would ease in the next three days as rains have stopped in the catchment area of Godavari.
According to the State Disaster Management Authority, 18 mandals (202 villages) in East Godavari and 22 (218 villages) in West Godavari were
affected
by the flood.
A team of ministers, including Alla Nani, East Godavari district-in-charge minister, deputy chief minister Pilli Subhash Chabdra Bose, agriculture minister K Kanna Babu and social welfare minister Penepe Viswaroop visited A Veeravaram and Musurumilli villages in Devipatnam mandal on Monday.
They visited relief camp at Ashram school in Musurumilli and reviewed relief measures. They also visited a medial camp for the flood-hit people and asked officials to extend medical services to the needy.
They visited a relief camp at A Veeravaram and said 25 kg rice, red gram, palm oil, potatoes and inions would-be distributed to flood victims.
The ministers said the copper dam in the Polavaram project exacerbated the flood. The ministers asked officials to take up sanitation works to avoid outbreak of contagious diseases after water receded.
In West Godavari, 49 villages in Polavaram and Velairpadu mandals are still marooned. The floodwaters have caused damaged to Necklace bund from Old Polavaram to Yedlapalem built at a cost of Rs 5 crore to safeguard Polavaram village.
The Godavari waters receded to 12.82 meters at Polavaram in the evening and Kademma Bridge was ready for traffic. Officials said the water level at upper cofferdam recorded at 27.1 meters and 11.60 lakh cusecs of water was flowing through the Godavari.
CWC assistant engineer Saravanan said waters may rise again on Tuesday as more inflows were recorded in the river from catchment areas. The 29 villages in Velairpadu mandal are still marooned even the flood levels slowly receding in that area.