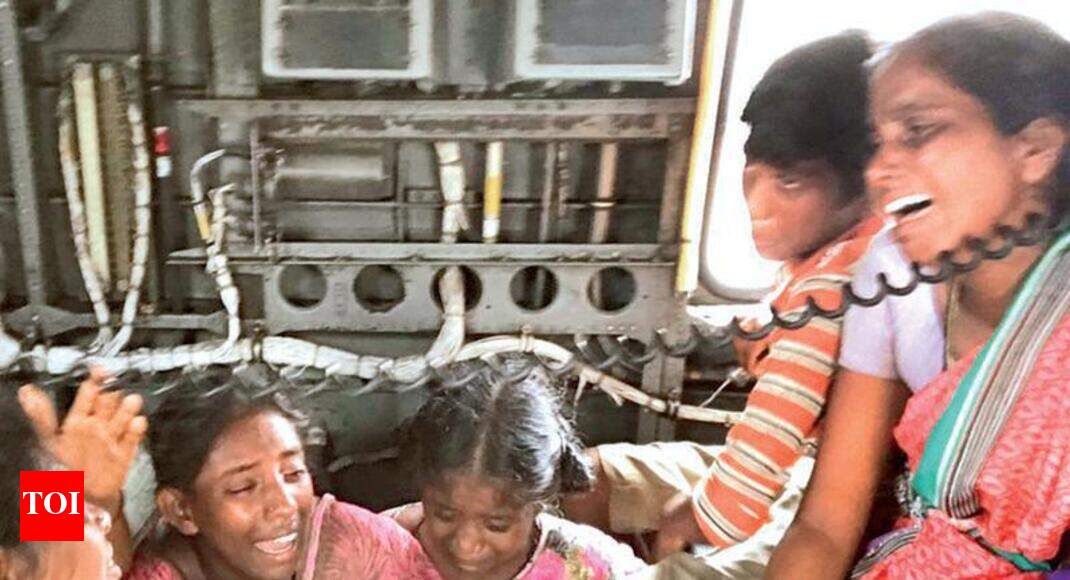 Rajahmundry: Thirty-one fisherfolk, including 12 women, stuck on the upper cofferdam of
Polavaram
national irrigation project in the Godavari in
West Godavari
district were rescued by Navy, National Disaster Response Force (
NDRF
) and police on Friday.
A group of 19 men and 12 women had ventured into the Godavari in 18 mechanised and country boats from Jalaripeta in Dowlaiswaram village in East Godavari district to catch fish upstream of the river last November. During their return trip,
floods
forced them to move around Kukkunuru and Velairpadu areas durng the last 10 days.
On Thursday night, they entered the river in 18 boats assuming that waters had receded. On Friday morning, they reached the upper cofferdam and climbed over it for safety as flood waters had risen again. They tried to move towards the Gandi Pochamma temple on the East Godavari side but flood waters surrounded the cofferdam.
On a request from the state administration, the
Indian Navy
deployed a UH3H helicopter from INS Dega, Visakhapatnam, to rescue the fishermen. The helicopter rescued 12 persons and brought them to Polavaram. A few fishermen were afraid of boarding the helicopter. Finally, NDRF, State Disaster Response Force (SDRF) and police teams ventured into the river in boats and rescued the remaining 19 people.
Polavaram deputy superintendent of police (DSP) M Venkateswara Rao said they had received communication that fishermen were stranded on the cofferdam in the morning. Polavaram police informed the superintendent of police (SP), West Godavari, Navdeep Singh Grewal and tried venturing into the waters on his direction. However, flood waters did not allow boats to run and NDRF, SDRF teams were called upon on, besides seeking help from the Navy in Visakhapatnam.
Police reached Purushothapatnam on the East Godavari side from Polavaram and were successful in pacifying the boat owners who were reluctant to run their boats in the heavy flood waters. From there, rescue teams moved to the Gandi Pochamma Temple by vehicles. From the temple area, the teams ventured into the river, reached the cofferdam and moved the stranded fishermen to boats. After reaching Polavaram, the police sent the fishermen to Dowlaiswaram by bus.