VIJAYAWADA: The
flood
threat continued in East and West
Godavari
districts for the sixth day on Tuesday even as the state government geared up to provide
relief
to 1.12 lakh affected people.
In all, 420 villages spread over
East and West Godavari districts
have been affected. As many as 25,802 families in 40 mandals were hit by floods. The government shifted 23,244 families to 87 rehabilitation centres in the two districts.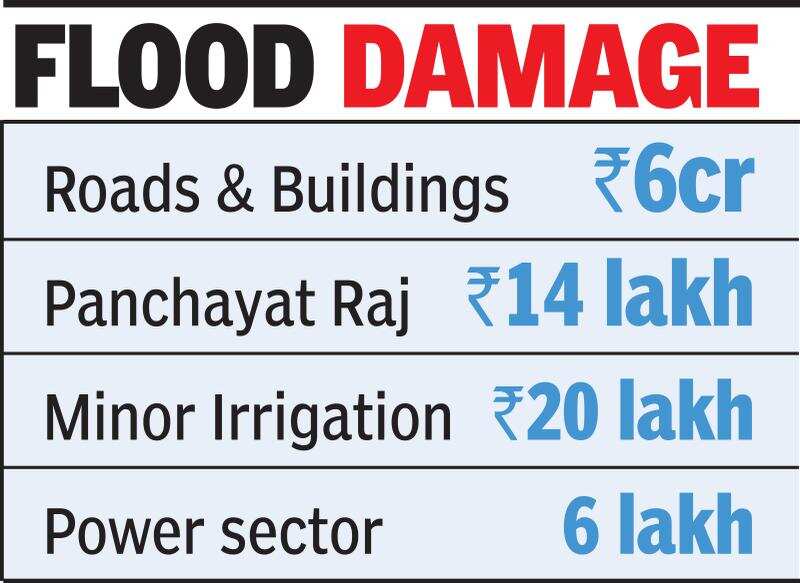 The first danger warning signal is still in force at Sir Arthur Cotton barrage at Dowlaiswaram in East Godavari as 10.33 lakh cusecs water have been discharged into the sea.
Meanwhile, water receded at Bhadrachalam and authorities withdrew the warning signal No 1. Flood water stood at 39.10 feet. About 40 villages are still inundated at Koanseema. People living in island villages are resorting to their own country boats as 18 boats pressed into service by the state are not adequate.
Transportation at Kotipalli, Muktheswaram and Sakhinetipalli ramps was stopped, causing problems for the people as rains are still continuing. It is expected that water may recede in next three days.
AP Transco chief managing director S Nagamani visited marooned villages in Devipatnam mandal in East Godavari on Tuesday and informed that it is not possible to restore power supply in view of the flood situation.
In West Godavari district, people living in Polavaram village are in grip of fear as ring bund, which was constructed to protect Godavari entering Polavaram village has become weak.
Besides operating 85 relief camps in East Godavari and 2 in West Godavari district, the officials of the districts were asked to give rice, red gram, palm oil, onions, potatoes and kerosene to the victims at the earliest. The officials said that 17,984 families in East Godavari and 7,818 families in West Godavari suffered heavily due to the floods. The state government had already supplied 1377.5 quintals of rice, 5240 kgs of red gram, 6967 kgs of onions, 6958 kgs of potatoes, 6967 liters of palm oil and 10,100 litres of kerosene to the collectors of the two districts for relief operations.
Chief Minister Y S Jaganmohan Reddy had already directed his cabinet colleagues, MLAs and the party leaders to be available to the flood victims and take active part in the relief operations. The chief minister reviewed the situation, where the officials told him that the situation was under control as the water have started receding,
The officials said 10,62,488 cusecs of flood water was being received and discharged at the Dowaleswaram Barrage near Rajamahendravaram.
The state government had deployed 120 teams of the NDRF, 226 teams from the SDRF and 160 teams from the fire services to help the flood-hit people and shift them to the relief camps.