NEW DELHI: Given a choice, oil companies across the world prefer baking the Earth for profit. But as the Narendra Modi government focuses on 'Jal Shakti' in its second term, India's state-run energy giants are rushing to seek corporate social salvation by taking up cudgels to clean up water sources – from Himalayan glaciers to lakes and rivers.
Flagship explorer ONGC is on its second clean-up drive to rid glaciers and river beds of garbage in select areas of Uttarakhand and Himachal. It is also deepening 15 lakes in Gujarat and clearing a stretch of Goadavari in Andhra Pradesh.
IndianOil, the country's largest oil refiner and fuel retailer, is rejuvenating 37 water bodies across 14 states amid reports of cities running dry during the recent heat wave. The country's largest power generator NTPC is focusing on water works for farmers in a Nagaram village of Ranjanna Sircilla district in Telengana and measures to reduce captive consumption.
The initiatives indicate the bluechips are looking beyond setting up schools, clinics, sanitation and skilling projects near their establishments to align their substantial CSR (corporate social responsibility) spends with the government's climate outlook.
"Our natural resources are depleting faster than we had anticipated due to global warming. It's high time we realise the importance of prudent use of natural resources, whether it is water or fossil fuels," said IOC director (HR) Ranjan Kumar Mohapatra, who had last year led a drive to clear garbage from Fotu La top along the Srinagar-Leh road, a major summer tourist halt in Ladakh.
"ONGC's 'Swachhta (cleanliness)' drive stretches from the Himalaya to the plains. Peaks have been cleaned up along with sensitisation of the populace. Rivers/water bodies are being desilted. The focus is on initiatives to bring about behavior change through information, education and communication. Securing sustainable growth remains at the top of our agenda," said ONGC director (HR) Alka Mittal, who headed the CSR (corporate social responsibility) wing before becoming the first woman director on the company's board last year.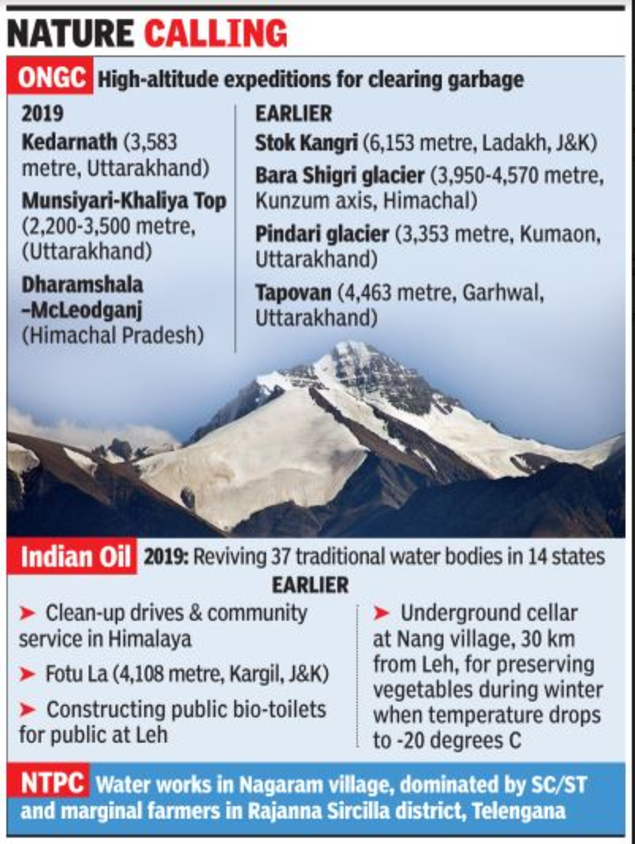 Tourist footfalls are damaging the fragile Himalayan ecology, while expanding encroachments are choking rivers and water bodies. Removing garbage and creating awareness is expected to help restore ecological balance, which moderates snow melting rate and allow glaciers time to rejuvenate. Water bodies get back their life and help replenish groundwater table.

ONGC is partnering Indian Mountaineering Foundation (IMF) for expeditions to Kedarnath and Khaliya Top-Munsiyari areas in Uttarakhand and Dharamshala-Mcleodganj in Himachal Pradesh. The 18- member team is cleaning areas around glaciers and rivers beds in these areas and spreading awareness about hygiene and sanitation. The Kedarnath team has cleared 20 bags of garbage, focusing on Gaurikund, Jangle Chati, Ramwada, Bhimbali, Linchili and Ghodapadaw.
This is the second such venture for the company, which had in 2015 joined hands with IMF to clean areas around Stok Kangri peak in ladakh, Bara Shigri glacier in Himachal Pradesh as well as Pindari and Tapovan glaciers in Uttarakhand.
The company is also deepening 15 lakes in
Gandhinagar district
of Gujarat as part of efforts to raise groundwater table. In Andra Pradesh, it is collaboarating with the Rajahmundry district administration to clear sludge and aquatic weeds from a stretch of Godavari
IndianOil is cleaning up Bhalsawa Lake-Jahangirpuri and stretches of Yamuna bank (near ITO in Delhi and DND) in Noida; Jalpura Pond in Greater Noida; Shukla Vihar (Dhobighat in Lucknow) and Krishna Sarovar Baad, Uttar Pradesh; Topsia Lake and Ramdhan Park (Kolkata) and Pora Pat Bhavan in West Bengal; Undera Pond, Sursagar Lake and Vishwamitri River in Vadodara; Galtaji Yagyavedi Kund, Surya Kund and Janana Kund in Jaipur; Dadar beach in Mumbai; Devasandra Lake in Bengaluru, Saidapet Lake (Chennai) and Omakulam Pond (Ennore) in Tamil Nadu; Thettiyar River in Thiruvananthapuram; Topsia Lake in Kolkata; Sweta Ganga Pokhari and Alarnath Chapa Pokhari (Puri district), Siddheswar temple pond (Nimidhi) and Kanjia Lake (Bhubaneswar) in Odisha; Silpukhuri and Jorpukhuri ponds in Guwahati; Kali Bhasan Pond in Digboi; Bongaigaon College pond; Shiv Ganga Pond (Deogarh) in Jharkhand; and Chakalivani Cheruvu in Telangana.
NTPC has set up water works in Nagaram village, dominated by SC/ST and marginal farmers in Rajanna Sircilla district, Telengana. "Water is a resource that is indispensable to life and its increasing scarcity is casting a shadow on all forms of existence. As a responsible corporate, NTPC has reduced specific water consumption by 5% in the year 2017-18 and optimised water utilisation to reduce consumption by 75 million cubic metres. By employing air-cooled condensers at two upcoming projects, NTPC would be able to save more than 75% water," said a company executive.