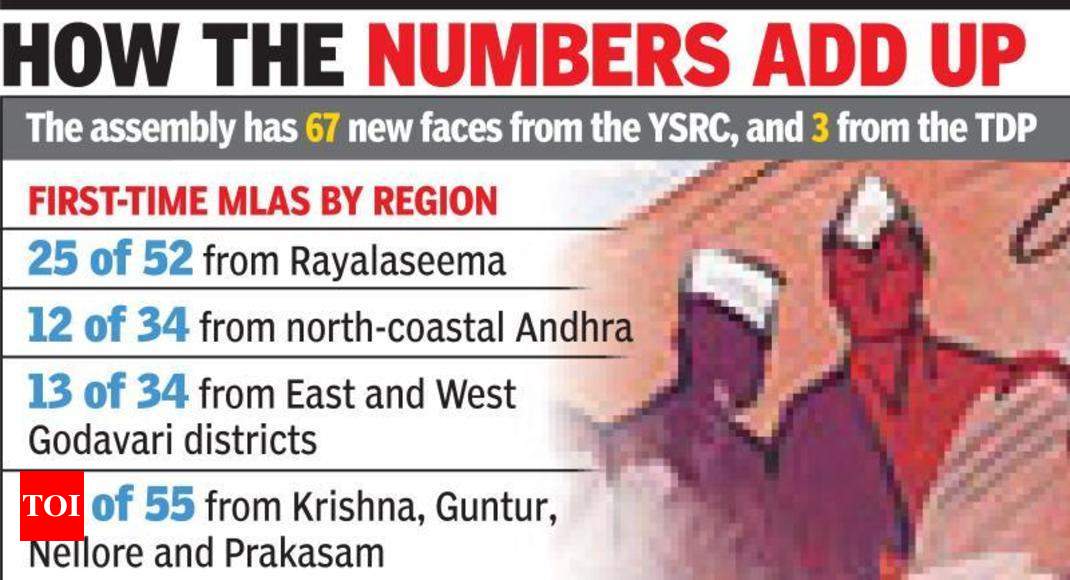 Amaravati: In what may be a record of sorts, as many as 70 first-time
legislators
walked into the
assembly
on Wednesday. This is the highest proportion of first-timers in the total strength of the assembly in recent history. Interestingly, as many as 67 of the 70 new legislators are from the YSRC, while only three were elected on a
TDP
ticket. This is nearly 45% of the actual strength of the
YSRC
in the assembly.
Analysts are of the opinion that Y S Jaganmohan Reddy's experiment with new faces played a big role in the party sweeping the elections as people were tired of long-standing and veteran leaders fielded by the TDP. Many TDP veteran leaders, including six-time legislators Kodela Sivaprasada Rao and five-time MLA Dhulipalla Narendra Kumar lost the elections.
The TDP had also been successful when it fielded new faces like Adireddi Bhavani (Rajahmundry Urban), Maddali Giridhar (Guntur West) and Ramaraju (Undi). Similarly, sitting legislator of Undi constituency Kalavapudi Siva, who had a clean image in the constituency, had lost when he was fielded from Narsapuram Lok Sabha constituency.
Addanki legislator Gottipati Ravikumar has the rare distinction of being sworn in as YSRC MLA in the last assembly and a TDP MLA in the present assembly. He is the only legislator who won the election despite switching over to the TDP from the YSRC.