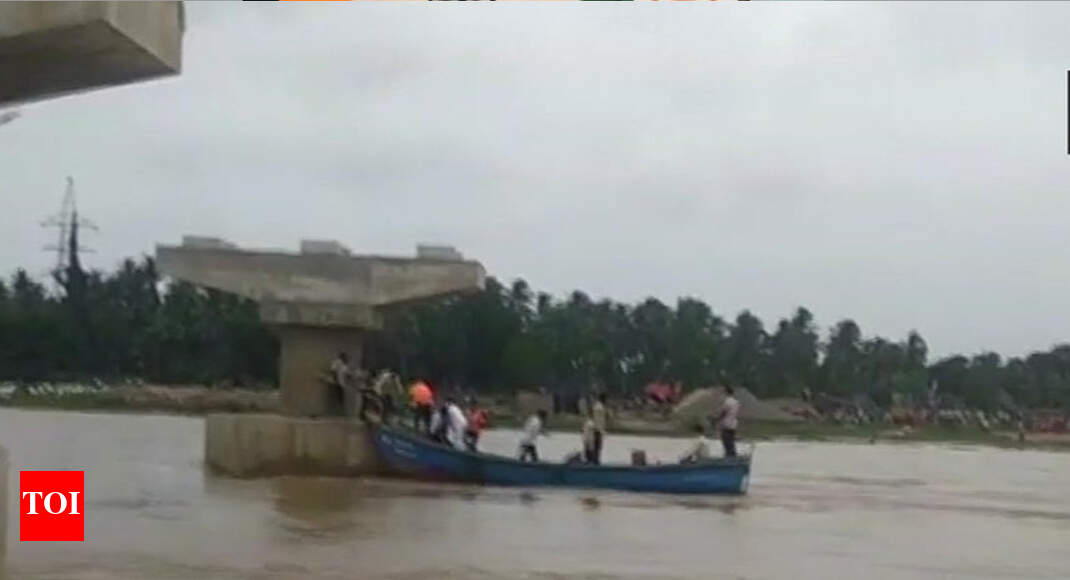 RAJAHMUNDRY: Five persons went missing after a country-made boat carrying 35 people, mostly students, drowned in the Godavari river near Pasupulanka village in
East Godavari
district on Saturday.
Speaking to TOI, East Godavari superintendent of police Vishal Gunni confirmed that the boat drowned in the Godavari and five passengers have gone missing.
Andhra tragedy: Boat carrying 35 people, mostly schoolchildren, capsizes in Godavari river; five missing. Superinte… https://t.co/l7NaG5deg2

— TOI Hyderabad (@TOIHyderabad) 1531579015000
Sources said that the boat did not have a valid license from the Andhra Pradesh ports. As per rule, every boat should register with ports in the state. Nearly 700 out of 800 boats in Andhra Pradesh do not have a valid licence from the ports.
Andhra tragedy: Onlookers watch rescue operations after a boat carrying 35 people, mostly schoolchildren, capsized… https://t.co/HYg1peHaBM

— TOI Hyderabad (@TOIHyderabad) 1531581589000
"Our team has rushed to the spot to monitor the situation," said K Sridharma Sastha, port officer, AP Ports.
Andhra Pradesh: A boat with more than 40 people in it has capsized in East Godavari after ramming into a bridge's p… https://t.co/8ldvbPmZct

— ANI (@ANI) 1531571903000
"As per our data, the boat was not registered with us," Sastha added.
Officials of AP Disaster Management said that a team of State Disaster Response Force (SDRF) also rushed to the spot to take up the rescue work.
According to the survivors of the tragedy, most of the passengers on the boat were students. The boat overturned after hitting a pillar of an under-construction bridge over the river.
Andhra Pradesh: Second Saturday is a general holiday for the schools. However, the schools remained open this Satur… https://t.co/X3s1J9qF7v

— TOI Hyderabad (@TOIHyderabad) 1531578172000
The boat was on its way from Saladivaripalem to Pasuvulanka. Most of the passengers were schoolchildren below 15 years of age, sources said.
The river was in spate due to heavy rains and the boat, which was going downstream, reportedly veered out of control and hit the under-construction bridge at a high speed after which it overturned. While some of the passengers managed to survive by hanging on to the pillar, around 10 persons washed away, sources said.
This incident comes within two months of a similar boat capsize that occurred in the Godavari, further upstream near Devipatnam Mandal, in East Godavari district on May 15, in which around 20 people were killed.
Chief minister N Chandrababu Naidu directed district officials to step up rescue operations.
(With inputs from Samson Raj
)