Budget carrier Indigo recently announced non-stop four daily flights between Hyderabad and Rajahmundry from June 7, 2018. Country's largest airline informed about the development on microblogging website, Twitter, through its offical handle,@IndiGo6E. It also mentioned the fares starting from Rs 1,130. Customers can book their tickets on www.goindigo.in, the airline further added.
Introducing 4x daily, non-stop flights between Hyderabad & Rajahmundry w.e.f 7th June . Save on time and travel hassle-free with one-way fares starting as low as Rs. 1130. Book Now at https://t.co/Mj1tZ006Ne #IndiGoATR#DeeperRoutes

— IndiGo (@IndiGo6E) April 11, 2018
Here's all you need to know about Indigo's Hyderabad-Rajamundry route:
Indigo is offering flights from Hyderabad to Rajamundry from June 7 starting from 7:00 in the morning at Rs 2,654 till 3:25 in the noon at Rs 2,299, according to a search on IndiGo's website, goindigo.in. Similarly, flights are available from 12:50 in the noon from Rajamundry starting at Rs 2,232 on June 8.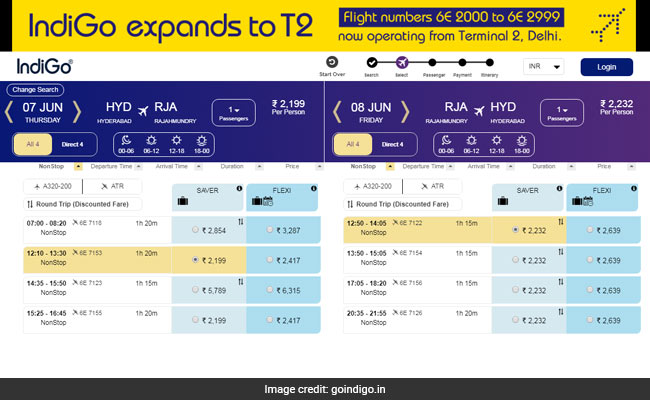 Indigo's latest routes:
Recntly, IndiGo also introduced four direct
flights between Chennai and Tiruchirappalli. The new flights, IndiGo said, will commence from June 1, 2018. Tiruchirappalli will be IndiGo's 51st destination and one can start booking tickets for an all-inclusive starting fares from Rs. 2,499. This would make the airline the first to launch four departures on its inaugural day to Tiruchirappalli. Also, IndiGo will be the only airline to provide same day return facility to its customers on Chennai - Tiruchirappalli - Chennai sector.The new flights from IndiGo come at a time of rising competition among airlines operating in the local civil aviation market, backed by robust passenger traffic.
Domestic airlines carried 222.09 lakh passengers in January-February this year, as against 182.34 lakh in the corresponding period a year ago, a year-on-year growth of 21.8 per cent, data from aviation regulator Directorate General of Civil Aviation showed.