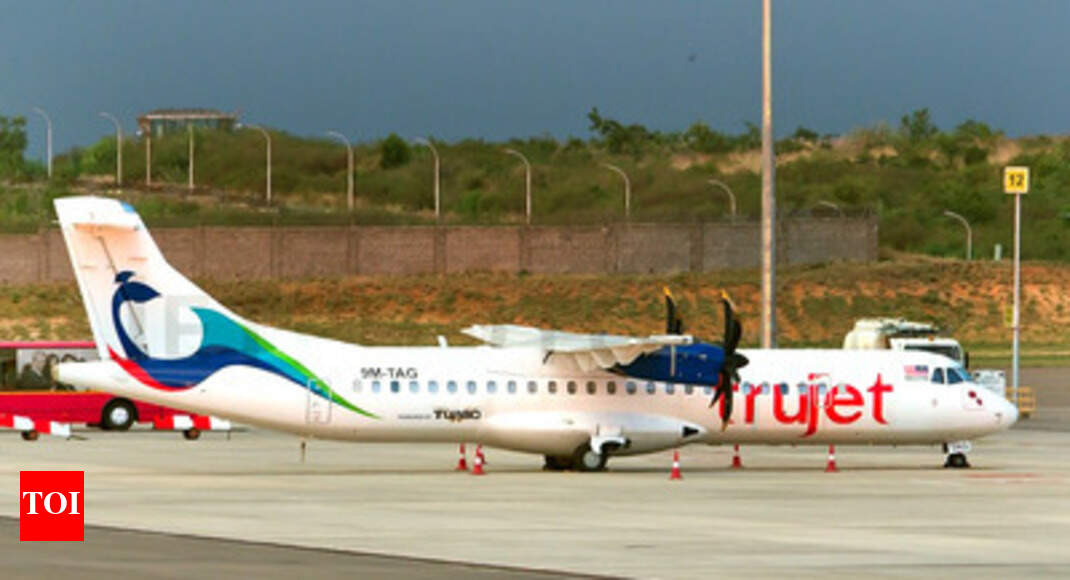 NASHIK: The private airline -
Trujet
- is likely to kick-start flight operations connecting Nashik with Ahmedabad from the second week of July this year.
The airlines headquartered in Hyderabad had won the bid to operate in this sector in the second round of bidding under the
Union civil aviation ministry
's
Regional Connectivity Scheme
(RCS).
It will operate all seven days of the week with a 72-seater aircraft. An official in the airlines said the process of finalising induction plan is currently on.
The airline official added that they had won the bid to operate the Ahmedabad-Nashik RCS route in the second phase of the Udan scheme. "Now, we are in process of finalising the induction plan before we start operations," he said.
At present, Nashik is connected with Mumbai and Pune under Udan's first phase. Deccan Charters Pvt Ltd is operating two flights from Nashik to these two cities.
In the second phase, five airline operators won bids to operate from Nashik to seven cities - Ahmedabad, Hyderabad, Bangalore, Bhopal, Hindon, Delhi and Goa. On January 24, civil aviation minister Ashok Gajapati Raju had announced the bids various airlines had won under phase two of Udan that would connect 78 airports across the country.

Apart from Trujet, Jet Airways won the bid to operate Delhi-Nashik route. Alliance Air, a subsidiary of state-owned Air India, won the bid to operate Ahmedabad-Nashik and Hyderabad-Nashik routes. As per the bids won, Indigo will connect Nashik will three cities by air Bangalore, Bhopal and Hindan. Another private airline
Spicejet
won bid to operate Goa-Nashik and Hyderabad-Nashik routes.
Nashikites have welcomed the move by Trujet to start operations from July. Manish Rawal, chairman of the infrastructure committee of Nashik Industries and Manufacturers' Association (Nima) was positive that the Nashik-Ahmedabad flight will get a good response.
"It is really good that Nashik will now get connected with Ahmedabad. Currently, there is no direct train from Nashik to Ahmedabad. It takes around 10 hours to reach Ahmedabad, which is major hub for trade and industry. The Gujarati fraternity in Nashik will benefit in a big way once the airlines commences flights," Rawal said.
Trujet is a brand name promoted by Turbo Megha Airways Pvt Ltd. The airline is currently operating at various destinations with five ATR 72 aircraft and is in process of inducting two more aircraft soon. Currently, the airline operates from Hyderabad, Aurangabad, Bengaluru, Chennai, Cuddapah, Goa, Rajahmundry, Tirupati, Vijayawada, Nanded, Mysore, Mumbai and Bellary.