Aam Aadmi Party has decided to fast track its organisational reshuffle. Mired with one controversy after another and still smarting from rebellion of Prashant Bhushan and Yogendra Yadav, AAP has decided to concentrate on building up its organisation. 
Here is the total list of names of the team which will help the National Convenor to oversee Mission Vistaar:
Prabhari
1.    Sanjay Singh – Punjab, Himachal Pradesh, U.P.
2.    Kumar Vishwas – NRI, Funding, Campaigning
3.    Ashutosh – Coordination and National Convenor's Secretariat
4.    Pankaj Gupta – Administration, Karnataka, Goa, Maharashtra
5.    Ashish Talwar – Frontal Organizations and Cells
6.    Meera Sanyal – Policy Research and analysis
7.    Habung Payeng – Assam, Mizoram, Meghalaya, Nagaland, Tripura, Sikkim, Manipur, Arunachal Pradesh
Sah Prabhari (Independent Charge)
1.    H. S. Phoolka – Legal
2.    Dilip Pandey – Communications
3.    Deepak Bajpai – Coordination/Media
4.    Durgesh Pathak – Organization Building
5.    Kiran Vissa – Odisha, West Bengal
6.    Somnath Bharti - Kerala, Tamil Nadu, Andhra Pradesh, Telangana, A & N Islands, Lakshwadeep, Puducherry
7.    Sanjeev Jha – Bihar and Jharkhand
8.    Nitin Tyagi – Rajasthan
9.    Vivek Yadav – Uttarakhand
10.  Vijay Nair – Gujarat, Daman & Diu, Dadra & Nagar Haveli
11.  Naresh Balyan - Haryana
12.  Somdutt - Madhya Pradesh, Chhattisgarh
Sah Prabhari (Attached to prabharis)
1.    Sanjay Kansal – Pankaj Gupta
2.    Ajay Dutt – Pankaj Gupta
3.    Shakeel Malik – Sanjay Singh
4.    Amantullah – Sanjay Singh
5.    Prakash Jarwal – Sanjay Singh
6.    Naresh Yadav – Sanjay Singh
7.    Preeti Sharma Menon - Kumar Vishwas
8.    Adarsh Shastri - Kumar Vishwas
9.    Alka Lamba - Kumar Vishwas
10.  Dr. Munish Raizada - Kumar Vishwas
11.  Richa Pandey Mishra - Ashutosh
12.  Harsh Kalra - Ashutosh
13.  Khem Chand Jagirdar – Ashish Talwar
14.  Abhas Chandela - Ashish Talwar
15.  Vandana Singh – Deepak Bajpai
Delhi Team
Convenor - Dilip Pandey
Secretary - Saurabh Bharadwaj
Treasurer - Raghav Chadha
Report
India
Anurag Dhanda
Zee News Bureau
Aam Aadmi Party (AAP)
Arvind Kejriwal
Sanjay singh
Kumar Vishwas
Tuesday, 5 May 2015 - 6:16pm
Tuesday, 5 May 2015 - 6:16pm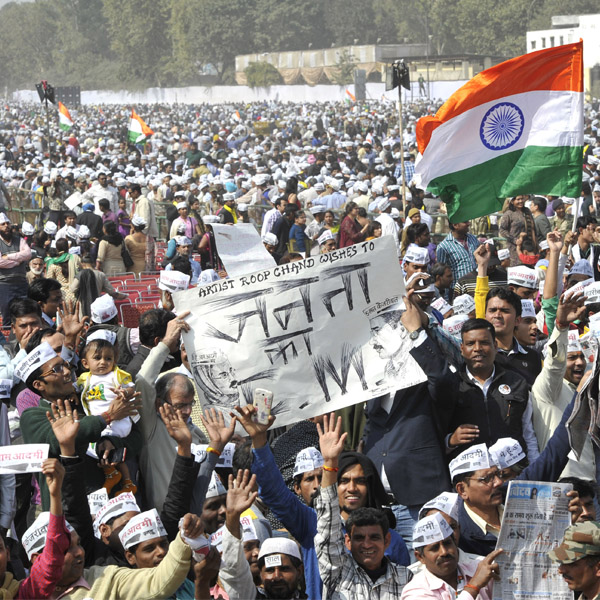 dnai.in/231